Hamels takes another loss as bats stay quiet amid slide
Hamels takes another loss as bats stay quiet amid slide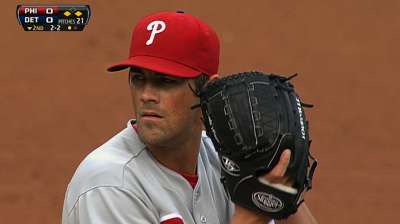 DETROIT -- It gets even worse for the Phillies.
They had hoped they hit bottom with three losses this week in St. Louis, but they continued their free fall Friday night with a 2-1 loss to the Tigers at Comerica Park. They have lost a season-high six consecutive games to fall to 49-54 with just three games remaining before Wednesday's non-waiver Trade Deadline.
Oh, they also announced Cliff Lee will not pitch Saturday against Tigers right-hander Max Scherzer because of a stiff neck. Left-hander Raul Valdes, who has a 7.59 ERA in 11 relief appearances, will start instead.
"More bad news," Phillies manager Charlie Manuel said.
What else can happen at this point?
"I don't know," Manuel said. "I hope I get back to the hotel all right. I've got two doors. I'm going to lock the hell out of both of them."
Can you blame him? The Phillies improved to 49-48 with a victory last Friday against the Mets at Citi Field, then have played their worst baseball of the season at the worst possible time. The Phillies have scored just 10 runs in the six losses, hitting .208 overall and just .128 with runners in scoring position in that stretch.
The Phillies took a 1-0 lead in the third, when John Mayberry Jr. reached on an infield error, advanced to second on Carlos Ruiz's single to right and scored on Michael Young's single to left. Phillies left-hander Cole Hamels retired the side in order in the bottom half of the inning to give the Phillies their first lead following a full inning since they won that game against the Mets.
But the lead would not last. Hamels got in trouble in the fifth, when he issued a one-out walk to Hernan Perez. He then allowed back-to-back doubles to Ramon Santiago and Alex Avila to hand the Tigers a 2-1 lead.
Santiago, who hit a first-pitch fastball, and Avila, who hit an 0-2 changeup, entered the night hitting .161 and .185, respectively.
But that has been the story of this road trip, and in many ways, this season.
Nothing is going right.
"The 0-2 count to Avila -- understanding where you are, what the situation of the game is -- I definitely made a Minor League mistake," Hamels said, "That's the whole game right there. I'd like to claim it's uncharacteristic, but sometimes you do it. You just can't do it in this sort of situation in a close game. Walking the guy to start that inning too definitely is unacceptable. You've got to challenge him. I didn't do that. That was the complete swing of the game right there.
"I have to make a better pitch to keep this team in the game. We want to win, but we have to be able to go out and win 1-0."
Tigers right-hander Doug Fister allowed just three hits, one unearned run, one walk and struck out six in eight innings, which meant Hamels needed to be perfect.
Hamels signed a seven-year, $144 million contract extension last July. He finished last season 17-6 with a 3.05 ERA, but is 4-13 with a 4.09 ERA this year. He is the first pitcher in baseball history to lose 12 or more of his first 16 decisions a season after recording 17 or more wins and a .720 winning percentage.
It has been a lost season for Hamels.
The season appears lost for the Phillies, too.
"Moving forward, I still like a lot of the guys," Hamels said. "But I think it could change and that will definitely make things a little bit interesting. It'll definitely make it different."
Todd Zolecki is a reporter for MLB.com. This story was not subject to the approval of Major League Baseball or its clubs.