With Pomeranz on DL, Dickerson recalled
With Pomeranz on DL, Dickerson recalled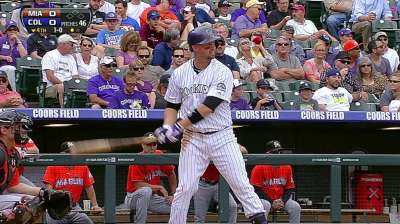 DENVER -- Just 15 days after he was sent down to Triple-A Colorado Springs, Corey Dickerson is back in the big leagues.
The Rockies called up the outfielder on Friday to replace left-hander Drew Pomeranz, who was moved to the 15-day disabled list with left biceps tendinitis. Pomeranz's stay on the DL is retroactive to Tuesday.
Dickerson swung a hot bat in the Minor Leagues, going 10-for-38 with two homers and 12 RBIs in nine games with the Sky Sox. Though Dickerson did not start Friday, the Rockies are in desperate need of someone to inject life into an offense that mustered just eight runs in four games against the Marlins.
"He always shows up, that's for sure with Corey," Rockies manager Walt Weiss said. "He went down and picked up right where he left off ... swinging the bat really well."
Dickerson made his Major League debut on June 22 and played in 15 games, starting six. His big offensive numbers in Colorado Springs didn't immediately translate to the big leagues, as he finished 7-for-33 (.212) with two RBIs and 12 strikeouts in his first stay with the Rockies.
Pomeranz said that the tendinitis has bothered him for about two weeks, which may offer a partial explanation for his consistent struggles in four starts for the Rockies. The southpaw was not efficient, making it through fewer than five innings and allowing at least three runs in each of his starts.
But he said his confidence has not disappeared despite an 0-4 record and an 8.10 ERA.
"I'm fine," Pomeranz said. "I know what I need to do. The first step is getting rid of this [injury], and I'll work on the other things later."
Pomeranz said he plans to rest the arm for the next few days and is unsure of the rehab plan from there.
Ian McCue is an associate reporter for MLB.com. This story was not subject to the approval of Major League Baseball or its clubs.