Valdes set to start for Lee, scratched with stiff neck
Valdes set to start for Lee, scratched with stiff neck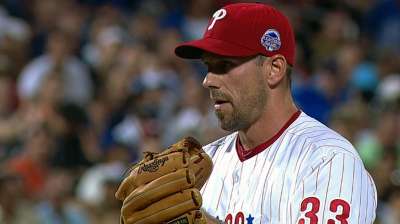 DETROIT -- It is just more bad news for the Phillies.
They will not have left-hander Cliff Lee on the mound Saturday to attempt to snap their six-game losing streak. They announced during Friday's 2-1 loss to the Tigers at Comerica Park that Lee has been scratched because of a stiff neck. Left-hander Raul Valdes, who has a 7.59 ERA in 11 relief appearances this season, will face Tigers right-hander Max Scherzer (14-1, 3.14 ERA) instead.
Lee tried to throw a bullpen session this week in St. Louis, but had to cut it short because of the pain.
"I was getting loose for my bullpen and could feel it for about every throw," Lee said. "I tried to see if it would go away as I threw and it really didn't and hasn't since then. I feel like it's getting a little better."
Lee said the stiffness probably has something to do with the hotel bed in St. Louis.
"I haven't talked to a doctor or anything," Lee said. "It is feeling a little better, but it is not completely gone."
Todd Zolecki is a reporter for MLB.com. This story was not subject to the approval of Major League Baseball or its clubs.