Bailey on wrong end of duel against Dodgers' Kershaw
Bailey on wrong end of duel against Dodgers' Kershaw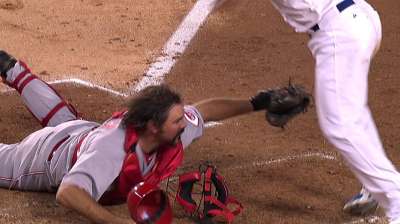 LOS ANGELES -- After an outstanding effort on the mound against the Dodgers on Friday, all Reds right-hander Homer Bailey could do was sit on the small seat in his cramped locker and hope for better fortunes.
"I'd like to face a guy with an ERA that's over 3.00. That would be great," Bailey said.
In a 2-1 loss, Bailey faced a pitcher with an ERA nearly under 2.00 in Clayton Kershaw. The ace lefty led the Majors in ERA in both 2011 and '12.
Bailey gave up Hanley Ramirez's two-run home run in the sixth inning for the difference-maker. They were his only runs allowed in seven innings to go with seven hits, one walk and five strikeouts.
"There's a reason he's led the league in ERA the last three years, right?" Bailey said. "It's kind of out of my control. What can you really do?"
Now 5-10 with a 3.77 ERA this season, Bailey is 0-4 with a 4.68 ERA since his July 2 no-hitter against the Giants. He's faced top-end pitchers in Kyle Lohse, Mike Minor, All-Star Jeff Locke and now Kershaw. The Reds' offense has averaged only two runs over those four games. Going further back, Bailey is 1-6 over his last eight starts, including two losses when Cincinnati was shut out.
Kershaw pitched eight innings and gave up just one run on six hits with no walks and eight strikeouts.
"Both guys were dealing," Reds manager Dusty Baker said. "It was a very good game. We just came out on the short end. You know you're not going to get a lot of chances to score off him. But, we did have chances."
Bailey and Kershaw exchanged zeros for five innings, but it wasn't always easy for both. Kershaw started the top of the fourth allowing Chris Heisey's double to right-center field, but retired the rest of the side in order, including Jay Bruce for a called third strike to end the inning.
In the bottom of the fourth, nice defense got Bailey out of trouble. With Ramirez on third base and one out, Juan Uribe skied a fly ball to right field. Bruce fired a strike to the plate, where catcher Corky Miller spun around with a tag attempt as Ramirez zipped past. Umpire Alfonso Marquez initially gave the safe sign, but Miller stayed with the play and lunged with an added tag attempt because Ramirez missed home plate.
"Corky had the presence of mind being a veteran," Baker said.
In the sixth, Ramirez had better luck by yanking a line drive just over the left-field wall for a two-run shot and 2-0 Dodgers lead. Ramirez entered the night 1-for-12 lifetime against Bailey, but has reached safely in his last 33 games, an active streak that only trails Joey Votto's 38. Votto hit a two-out double in the first inning off of Kershaw.
"I thought I made a pretty good pitch to Hanley there, a pitch he had taken earlier in the game, and he hit it out," Bailey said. "He's hot right now. My numbers in the past had always been pretty good against him."
Bailey retired his final six batters before being lifted for a pinch-hitter in the top of the eighth.
"It's a tough one to lose, because we haven't been scoring much for Homer," Baker said. "You hate to keep saying it, but if he keeps pitching like that, we'll get him a victory and us a victory."
In the top of the seventh, Brandon Phillips hit a one-out double down the right-field line and made it a one-run game by scoring on Bruce's lined single to center field. Bruce moved to second on a wild pitch, but Todd Frazier struck out and Zack Cozart grounded out.
Kershaw remained for the eighth and gave up a one-out double off the third-base bag by pinch-hitter Derrick Robinson. The lefty got Shin-Soo Choo to bounce back to the mound and Heisey popped out to end another threat. Closer Kenley Jensen worked a perfect ninth.
"They've got a great team over there, a great lineup, and the key is to get those middle guys and not give them any opportunities," said Kershaw, who is 10-6 with a 1.96 ERA, falling from 2.01. "When I gave them opportunities, they scored runs. That's their MO. They've got a great middle of the order and I was trying to keep guys off the bases in front of them."
It was an unfortunate loss for the Reds, because it was a rare day when both the first-place Cardinals and second-place Pirates took losses. The Reds, now 4-2 on an 11-game West Coast road trip, still trail St. Louis by five games in the National League Central.
"We knew when we came in here that we were facing -- [Zack] Greinke and Kershaw and the staff here," Baker said. "You know you have your work cut out for you. It's a tremendous challenge. We were a couple of hits away from winning that game."
Mark Sheldon is a reporter for MLB.com. Read his blog, Mark My Word, and follow him on Twitter @m_sheldon. This story was not subject to the approval of Major League Baseball or its clubs.