After Felix's gem, Mariners fall in 13
After Felix's gem, Mariners fall in 13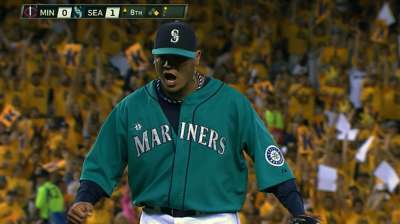 SEATTLE -- Felix Hernandez put together another masterful performance Friday with nine innings of one-run ball, but the Twins rallied in the 13th for a 3-2 win over the Mariners.
Rookie right fielder Chris Colabello clubbed a two-run homer -- the first of his career -- off reliever Yoervis Medina for the winning blow in the top of the 13th after Charlie Furbush, Tom Wilhelmsen and Oliver Perez had held the Twins hitless over the previous three frames.
Kendrys Morales got the Mariners back within a run with a leadoff home run in the bottom of the 13th off Glen Perkins, but the Twins lefty held on for his 25th save.
The Mariners have still won nine of their past 11 games and gone 14-7 in July, the second-best record in the American League in that span, as they've climbed to 49-54. But they let one slip away against the Twins, who trailed 1-0 through eight innings until finally getting to Hernandez.
Hernandez wound up with a no-decision despite holding Minnesota to five hits and one run over nine innings, leaving him 11-4 while lowering his American League-leading ERA to 2.34.
"It was vintage Felix, but obviously there wasn't a lot of run support for him and we squandered some opportunities," said acting manager Robby Thompson. "We could have had another run or two, but it didn't happen. He chewed them up for eight innings, then tip your hat to the other side. They battled and put a couple up late and one to tie against Felix. But Felix was Felix tonight."
Until Minnesota pushed across a run in the top of the ninth on an RBI single by Trevor Plouffe, the Mariners' ace had a career-high 24 straight scoreless innings, dating back to July 8 against Boston.
Hernandez and Thursday's starter, Hisashi Iwakuma, combined to throw 58 2/3 consecutive innings without an earned run against the Twins until Plouffe drove in Pedro Florimon in the ninth.
Hernandez felt he only made two mistakes all night.
"On Florimon, I threw a fastball that stayed up and caught the middle," he said. "And that changeup [to Plouffe] was just a little bit up."
As for losing a late lead and ultimately the ballgame on a night where he dominated for eight innings and still gave up only a single run?
"It's baseball," Hernandez said. "I don't get frustrated. I'm just [ticked]. It happens."
Hernandez is 6-0 with a 2.18 ERA over his last 11 starts and hasn't lost since May 25 against Texas.
The 2010 American League Cy Young winner struck out 11 on the night, giving him 158 for the season. He becomes the third pitcher with eight seasons of 150-plus strikeouts by his age-27 season, joining Bert Blyleven (1971-78) and Walter Johnson (1908-15).
"Mr. Hernandez was as advertised, really tough to find a way to squeak out a run against him," said Twins manager Ron Gardenhire. "He's unbelievable, he's just so dominant. But you know what? Our boys kept battling and we finally got in a situation and got a man out there and got a big hit to tie it up and it kind of went from there."
The Twins challenged Hernandez's scoreless streak right out of the gate as leadoff man Brian Dozier singled and moved to third on a pair of groundouts before getting stranded there on a Ryan Doumit strikeout.
But Hernandez allowed just one more baserunner -- a two-out single by Doumit in the fourth -- until a leadoff single in the eighth. Seattle erased that late threat with a double-play grounder by pinch-hitter Colabello, but Hernandez couldn't dodge the Twins in the ninth.
Seattle had runners on first and third with one out in the fourth and came up empty against Scott Diamond. They faced the same situation in the fifth, but this time rookie second baseman Nick Franklin delivered with a two-out RBI single up the middle for a 1-0 lead.
Franklin, 22, now has 28 RBIs along with eight home runs in his first 50 games in the Majors. He went 3-for-6 on the night, raising his average to .273.
"Felix pitched a heckuva game and we didn't score as many runs as we could have," said Franklin. "It was just one of those nights. It's baseball. Things don't always come out right, but we still grinded and played good defense. It just didn't end up on a good note."
With Mike Zunino going on the disabled list earlier in the day, 41-year-old Henry Blanco caught all 13 innings for the Mariners. Thompson said newly signed Humberto Quintero would get the start in Saturday's day game.
"Whatever they need from me, I'm going to be here," said Blanco, who went 1-for-5 and is now hitting .173. "We'll see what happens the next couple days."
Greg Johns is a reporter for MLB.com. Follow him on Twitter @GregJohnsMLB as well as his Mariners Musings blog. This story was not subject to the approval of Major League Baseball or its clubs.