Hanley's homer backs Kershaw's gem
Hanley's homer backs Kershaw's gem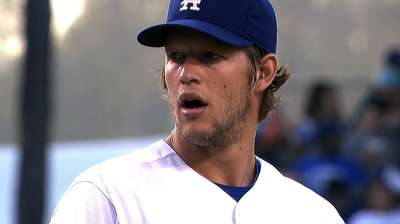 LOS ANGELES -- The Dodgers won the type of game they expect to encounter in the postseason, should they make it that far.
Clayton Kershaw was dominant, Hanley Ramirez homered, Carl Crawford had three hits and Kenley Jansen shut the door as the Dodgers beat the Reds, 2-1, on Friday night at a sold-out Dodger Stadium.
"It felt like a playoff game, really, when you get down to the end like that with a 2-1 type game and the place is full," Dodgers manager Don Mattingly said. "It was good."
Ramirez, who has never been to the postseason, launched a two-run shot in the sixth to break a scoreless tie and send the Dodgers to their seventh win in eight games coming out of the All-Star break.
"You could see it today, it was unbelievable," Ramirez said of the postseason atmosphere at Chavez Ravine. "That's it right there. That's the feeling and that's the way you're supposed to play the game."
Los Angeles improved to 24-6 since June 22, the best record in the Major Leagues over that span, and remained half a game ahead of Arizona in the National League West.
"It's a great example of one of the reasons why we're in first place. We've got Kershaw throwing an unbelievable game like he always does, and Hanley came through and homered," first baseman Adrian Gonzalez said. "That's two guys that have been huge all year for us."
Kershaw fired eight innings of one-run ball to win for the fifth time in his past six starts. He struck out eight and walked none to improve to 10-6. Kershaw leads the Majors with a 1.96 ERA.
The left-hander cruised through six innings until encountering some trouble in the seventh, when Brandon Phillips doubled and scored on a single by Jay Bruce.
Kershaw pitched out of a jam in the eighth after Derrick Robinson lined a pinch-hit double down the left-field line. With his pitch count over 100, Kershaw regrouped and got Shin-Soo Choo to ground out and Chris Heisey to pop out to preserve the lead.
"It was just typical Clayton," Mattingly said. "He's just relentless as far as every hitter, every pitch, every inning. He just continues on. It's one of the greatest things about Clayton, he just never gives in."
Unable to capitalize on a few early scoring chances against Reds starter Homer Bailey, the Dodgers broke through in the sixth. Gonzalez led off with a single to right and Ramirez followed with a bullet over the left-field fence.
Ramirez is hitting .389 with three doubles, three homers, eight RBIs and 10 runs scored since the break.
"He's one of the more talented guys I've ever seen," Kershaw said. "When he's going like this, we can kind of all jump on his back and that's what we're doing."
Ramirez also singled in the fourth and has reached base in 33 consecutive games -- the second-longest active streak in the Majors behind Reds slugger Joey Votto, who ran his streak to 38 games with a double in the first. Ramirez then stole second and moved to third on a flyout by Andre Ethier. Juan Uribe lifted a fly ball to right fielder Bruce, who fired home in time to nail Ramirez at the plate. The shortstop avoided the initial tag from catcher Corky Miller, but missed the plate and was tagged out.
Ramirez said he didn't want to slide because he injured his right shoulder on a similar play last year in the Dominican Republic.
"I don't want any part of that," he said. "I tried to stay away from him."
Bailey scattered seven hits over seven innings, striking out five against one walk. The Reds came up with the big hits during Thursday's 5-2 win, but the Dodgers returned the favor against Bailey, who fell to 0-4 since he no-hit the Giants on July 2.
"Both guys were dealing," said Reds manager Dusty Baker. "It was a very good game. We just came out on the short end. You know you're not going to get a lot of chances to score off [Kershaw]. But, we did have chances."
Jansen retired the heart of the Reds' lineup in order in the ninth to record his 13th save. He struck out Phillips and Bruce to end the game, bringing the crowd to a deafening roar.
After sweeping the Nationals and Blue Jays -- two clubs with losing records -- on the road to start the second half, the Dodgers were pleased to get a hard-fought win over the Reds, who are in the hunt for a playoff berth at 59-45.
"It's definitely a team that we could face in the playoffs, if we're both in it," Gonzalez said. "So, you definitely have to take that mentality. Yesterday was a close game and these games are going to be well pitched."
Austin Laymance is an associate reporter for MLB.com. This story was not subject to the approval of Major League Baseball or its clubs.