Indians want to tighten things up on defense
Indians want to tighten things up on defense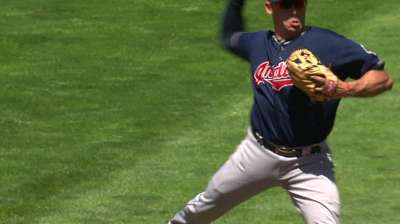 CLEVELAND -- After watching his club commit nine errors during the recent road trip, Tribe manager Terry Francona figured some extra fielding practice was in order.
The Indians put in more work than usual on Friday before opening up a three-game weekend series with Texas. In the six-game road swing through Minnesota and Seattle that followed the All-Star break, the club went 2-4, with each loss being decided by a run.
Francona wanted to begin the seven-game homestand on a familiar note, hoping to take advantage of players' routines and the comfort they can instill.
"It doesn't mean because we took grounders today, we're going to have a flawless game," the manager said. "But getting back into the routine should certainly help.
"You want to reinforce good habits. We all need to do that. That's just part of the game. You can't just get to a point and quit. You have to get to a point and then continue to do it to stay at that [point]."
Over the last six games, third baseman Lonnie Chisenhall totaled four errors and Jason Kipnis was charged with two. Nick Swisher, Asdrubal Cabrera and Mark Reynolds each committed one.
The Indians have 17 errors in July, tied with five other teams for the second most in baseball, trailing only Toronto (19). On the season, Cleveland has piled up 64 errors and compiled a .983 fielding percentage, fifth and 11th in the American League, respectively.
Despite all that happened in the last week, the Tribe is still 18-13 in one-run games.
"When you're playing one-run games, you have to play very clean if you want to win," Francona said. "Teams go through stretches where you don't hit or you don't pitch. We've actually been pitching pretty well. We've gone through a little bit of a streak here where we're not finishing plays, or missing plays. Hopefully, that will change, because that's a big part of winning, in my opinion, is playing clean baseball."
All the recent mistakes aside, the Indians understand that errors are part of the game. It's not as if anyone on the team has played himself out of a roster spot as a result of sloppy defense.
"I feel really good about the group of position players we have," general manager Chris Antonetti said, "offensively, defensively, on the bases, the ability to score runs and prevent runs, despite what happened on this past road trip. I'm confident that will be more of a blip than a continuing trend."
Jordan Bastian is a reporter for MLB.com. Read his blog, Major League Bastian, and follow him on Twitter @MLBastian. Mark Emery is an associate reporter for MLB.com. This story was not subject to the approval of Major League Baseball or its clubs.