Shields' scoreless start delivers fourth straight win
Shields' scoreless start delivers fourth straight win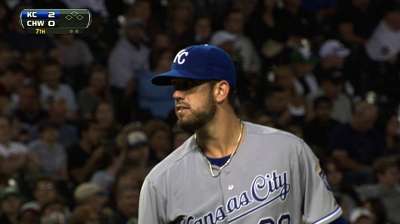 CHICAGO -- James Shields put up zeros and the Royals put up No. 4.
Shields shut out Chicago for the first seven innings and the Royals beat the White Sox, 5-1, for their fourth straight win on Friday night at U.S. Cellular Field. The Royals are 6-2 since the All-Star break and, after 100 games, stand just two wins shy of the .500 mark at 49-51.
The Royals know if they're going to make a move in the American League Central, the time is now.
"The last two months are coming in so it's time to go, time to ride," Shields said. "And I think our intensity has been great, the positive vibe in this clubhouse has been amazing and we're feeding off each other, and that's what it's all about."
David Lough's leadoff home run in the third inning got the Royals off to a 1-0 lead. Lough lined a 2-2 pitch from left-hander Jose Quintana over the right-field wall for his fourth homer.
"Tough lefty. I've faced him before and he comes right after you. It was a changeup, that's what I hit," Lough said. "He threw a lot of fastballs and challenges hitters. He has good velo and has good stuff. He had a really good game -- he and Shields just went back and forth."
Shields kept the White Sox well away from home plate through the fifth, an inning in which he executed the 26th pickoff of his career. Alejandro De Aza apparently didn't it take seriously when he dove back just under Shields' first throw over. Zap -- Shields came right back and nailed him. It was his second pickoff this year.
"It was a great situation, it was a clutch situation," Shields said. "De Aza is a fast runner and he can steal a bag any time. So that was the second out in the inning and I think that was a big play in the game."
Since 2006, when Shields first joined Tampa Bay, his 26 pickoffs are the most in the Majors by a right-handed pitcher. Lefty Mark Buehrle has the most of any pitcher during that period with 56. Shields' left-handed teammate, Bruce Chen, also has 26 since '06.
"He works on that," Royals manager Ned Yost said. "That's a big part of his game, controlling the running game. He almost had him the time before. He lives for that."
The White Sox threatened Shields in the sixth when they loaded the bases, but failed to score. Adam Dunn led off with a single and, after two outs, Dayan Viciedo singled and advanced to second on a wild pitch. The ball bounced out of the dirt and hit catcher Salvador Perez's chin and re-opened a cut from a foul ball on Wednesday night. He was treated by head trainer Nick Kenney and continued to play.
Shields walked Gordon Beckham to fill the bases, but Josh Phegley rolled into a forceout at third.
Perez, his chin OK, led off the Royals' seventh with a double just fair down the left-field line. He moved to third as Lorenzo Cain rolled out to the right side and, after Mike Moustakas walked, scored on Miguel Tejada's sacrifice fly for a 2-0 lead.
Shields finished his outing the way he started it, with a perfect inning. His reward for seven shutout innings would be his fifth victory against, believe or not, seven losses.
"The record doesn't tell a quarter of the story of the way he's pitched all year long. He's been really, really good," Yost said. "He keeps us in the game every time he goes out there. We've just struggled to score runs for him."
The White Sox ended the shutout against reliever Kelvin Herrera in the eighth. Herrera got two outs, but Conor Gillaspie lined a home run just over the right-field wall to make it 2-1.
Yost was preparing to bring All-Star closer Greg Holland into the game for the ninth. But, bingo, the Royals struck for three runs in the ninth against relievers Matt Lindstrom and David Purcey.
Billy Butler's walk started things, pinch-runner Jarrod Dyson stole a base, Perez singled and the Royals were off and rolling. Cain and Mike Moustakas each had an RBI single.
After an out, Lough -- whose homer launched the scoring -- finished it with a sacrifice fly to left field. Not an ordinary sac fly, either. Casper Wells, just into the game as a defensive replacement, dropped the ball for an error. The effect of Gillaspie's home run was wiped out.
"You give up that and it kind of takes that momentum away," said White Sox manager Robin Ventura.
It also allowed Holland to take the night off. Instead, Luke Hochevar pitched the ninth and needed just four pitches to get three outs.
And now, the Royals seem to have some momentum.
"They're stepping out there now, feeling like they've got a chance to win every single day and that's a good feeling," Yost said.
Ah, but Shields indicated they're not overly confident.
"We're confident and we're also good at amnesia as well," Shields said. "So we're going to forget about tonight and move on to tomorrow."
Dick Kaegel is a reporter for MLB.com. This story was not subject to the approval of Major League Baseball or its clubs.