White Sox can't cash in on chances to back Quintana
White Sox can't cash in on chances to back Quintana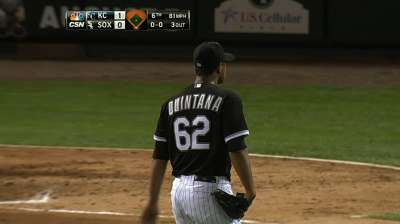 CHICAGO -- A lack of run support and a ninth-inning implosion by the White Sox bullpen once again kept left-hander Jose Quintana from being properly rewarded for his effort Friday night.
The White Sox left-hander held the Royals to two runs in seven innings, but Chicago was unable to get the clutch hit to fall against Kansas City righty James Shields, who tossed seven shutout innings to lead the Royals to a 5-1 win at U.S. Cellular Field.
Quintana and Shields dueled through the game's first seven innings before third baseman Conor Gillaspie homered in the eighth to cut Chicago's deficit to 2-1. But the Royals scored three in the ninth off right-hander Matt Lindstrom to quell any momentum and hand the White Sox their seventh loss in the last 10 games.
"You don't expect Matt in that situation to have that happen," White Sox manager Robin Ventura said of the ninth, which also included a dropped fly ball by left fielder Casper Wells. "That's one you don't expect. I don't expect it the next time he goes out there. You give up that and it kind of takes that momentum away."
The momentum could have easily gone Chicago's way on a handful of occasions because, though Shields shut out the White Sox, he certainly didn't shut them down.
White Sox second baseman Gordon Beckham -- who returned to the lineup after missing the previous five games with a strained ligament in his left wrist -- had three chances to make his return a memorable one, three times coming to the plate with two on and two out.
Beckham flied out in front of the center-field warning track in the second and fourth innings, drilling two hard-hit balls.
"One of those nights, and unfortunately they came with guys on base," Beckham said. "That stinks, because maybe it could've been a different game. But it was one of those nights that Shields was pretty good -- I mean, he's always good."
Beckham's second at-bat included the swing that could have swung Friday's game in Chicago's favor -- a line drive down the right-field line that landed foul by mere inches.
"Yeah, I don't even know if it was multiple inches," Beckham said. "I think it was really close, but definitely a foul ball."
Beckham provided a productive plate appearance in his third two-on, two-out situation in the sixth inning by walking, but rookie catcher Josh Phegley grounded Shields' first offering into a forceout at third base to end the inning.
"He was hitting stuff hard. He had good at-bats all night and it was a little like Q [Quintana], he probably deserves better than he got," Ventura said of Beckham. "But that's the way the game is, it's not always fair."
Shields has allowed one run in 13 innings in two starts at U.S. Cellular Field this season.
"The record doesn't tell a quarter of the story of the way he's pitched all year long. He's been really, really good," Royals manager Ned Yost said. "He keeps us in the game every time he goes out there. We've just struggled to score runs for him."
Like the White Sox with Quintana on Friday.
While Shields (5-7, 3.09 ERA) earned the win -- allowing eight hits, walking two and striking out two -- Quintana (5-3, 3.55) was saddled with the loss.
The lefty made only one mistake on a hanging changeup in the third inning, which Royals right fielder David Lough drilled into the right-field bullpen.
"It was bad location," Quintana said through an interpreter. "It was the right pitch to throw, but just bad location. Those things happen and you move on."
Quintana did, allowing only six hits and striking out five -- all swing-and-misses on his curveball.
"He's been doing that lately," Ventura said. "He's a good pitcher and it's just one of those where he doesn't get really what he deserves. He was sharp."
Like All-Star lefty Chris Sale, not getting what he deserves has been a theme for Quintana this year. The 24-year-old leads the Majors with 13 no-decisions and is 2-1 with a 3.05 ERA in his last four starts.
Quintana isn't complaining about the lack of offense, though, because on Friday, Beckham and the offense couldn't catch any breaks, either.
"The team today, we got some hits. But you also have to realize you're facing a pretty good pitcher," Quintana said. "The offense was there, we just couldn't get the runs."
Cash Kruth is a reporter for MLB.com. Follow him on Twitter at @cashkruth. This story was not subject to the approval of Major League Baseball or its clubs.