Iglesias staying upbeat during prolonged slump
Iglesias staying upbeat during prolonged slump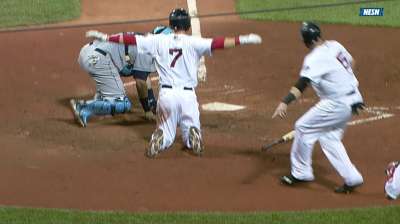 BALTIMORE -- Jose Iglesias started for the 32nd game in a row Friday night, and it was hard to tell the Red Sox rookie shortstop was in his first prolonged slump of the season.
As manager John Farrell held court with reporters in the dugout, Iglesias was a few feet away, joking around with some of his teammates.
Iglesias has come along way from the prospect who was pinch-hit for in the middle of an at-bat last year by former manager Bobby Valentine to one who is encouraged to go to the post every single day, even if his results have dropped off of late.
"I feel good; I feel healthy," said Iglesias.
And what about the continued confidence from his manager?
"It's big," Iglesias said. "You're not going to feel 100 percent or you're not going to get results every single time or every single game. We've faced pretty good pitchers. It's still a long way to go."
In 66 at-bats since July 3, Iglesias is batting .197 with a .250 on-base percentage. In his first 135 at-bats of the season, he hit .435.
"Like I say, I'll continue to work and continue to get better and get back on track where I was," said Iglesias. "If I don't do it with the bat, I'll do it defensively or baserunning. Anything I can do. You always do something to help this team win."
Iglesias doesn't doubt that there's been some dropoff to his mechanics or swing during the slump, but he knows it's nothing drastic.
"Sometimes when you get fatigued or you get tired, you kind of change little things," Iglesias said. "Like I said, I feel pretty good. I've already talked with my coaches and we're moving forward. I feel great today."
Are pitchers working Iglesias differently?
"Not really," Iglesias said. "It's just sometimes I swing at balls out of the strike zone and get behind in the count a lot. Like I say, we've faced a lot of good pitchers in the last two to three weeks. They've been throwing the ball well. You try to battle when the pitchers are like that, there's not much you can do."
"And with Iggy, still think there's a competitive spirit in his at-bats, even though the numbers of late have not been anything like they were for the better part of the first month and a half," said Farrell. "Some of what you have to do is take the good with the bad and continue on."
The prospect of playing every day in a pennant race is something that is clearly exhilarating for Iglesias.
"It's fun to be here and help this team win, to face the American League, some of the best pitchers in baseball," Iglesias said. "We're just moving forward, trying to get this team to the playoffs. Like I said, I feel good. This is a great group. We're moving forward and hoping to win this series."
Ian Browne is a reporter for MLB.com. Read his blog, Brownie Points, and follow him on Twitter @IanMBrowne. This story was not subject to the approval of Major League Baseball or its clubs.