Encarnacion, Reyes power Blue Jays' outburst
Encarnacion, Reyes power Blue Jays' outburst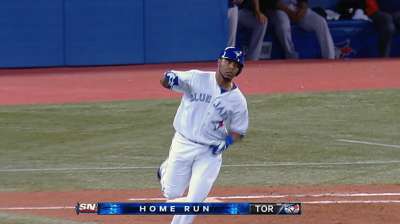 TORONTO -- With more than a week's worth of frustration starting to boil over, the Blue Jays took out all of their pent-up anger on the Astros on Friday night.
Toronto enjoyed one of its best nights at the plate this season, and while doing so tied two franchise records. For a while it looked like it might be another long night for the club, but all of that changed in just one inning.
The Blue Jays' offense erupted for eight runs in the seventh inning as Edwin Encarnacion homered twice, including a grand slam, and turned an early deficit into a 12-6 victory over the Astros at Rogers Centre.
"I don't think it can get any better than that," Blue Jays manager John Gibbons said. "[Encarnacion's] having another great year, he really he is. He's been steady all year. He hit into a lot of tough luck early in the season. But I think he's been as steady as probably anyone in baseball."
To say the Blue Jays have been through a lot this week would be a gross understatement. The club was swept in back-to-back home series by the Rays and Dodgers, blew an 8-3 lead to Los Angeles on Tuesday and eventually had its losing streak extended to seven games before a 75-minute players only meeting to clear the air.
Things were so bad that at one point during the week Gibbons said, "I thought last night was rock bottom, but I guess not."
But just when it seemed like all hope was lost for turning things around, the last-place Astros came into town and helped right the ship.
The Blue Jays easily won Game 1 of the series thanks to a masterful performance by left-hander Mark Buehrle, but it was a lot more difficult on Friday night. Toronto fell behind early, as knuckleballer R.A. Dickey surrendered five runs in six innings, and the 24,088 fans at Rogers Centre quickly grew restless over the idea of their team losing to a Houston team that is now 34 games under .500.
The atmosphere quickly changed in the seventh, when Encarnacion led off the inning with a line-drive homer just over the wall in left to cut Houston's lead to 6-5. It was the first step of the comeback, but little did anyone know at the time just how much the Blue Jays had left in the tank.
Three runs later -- an Adam Lind solo homer, Maicer Izturis RBI double and a Jose Reyes bases-loaded walk -- Encarnacion was back at it again. This time he came up with the bases loaded and sent a 3-2 fastball into the Blue Jays' bullpen.
That gave Encarnacion five RBIs, and he became the first Blue Jays player to homer twice in the same inning since Joe Carter on Oct. 3, 1993.
"I've been working with my timing the last couple of days," said Encarnacion, who now has six career grand slams. "I got my timing back, so I was seeing the ball good ... I got early work with my bullpen coach [Pat Hentgen], so I found it and I feel great at the plate again."
Encarnacion was far being from the only Toronto hitter to enjoy a productive night against the struggling Astros pitching staff. Reyes went 3-for-3 with a homer, two walks and two runs, coming a triple shy of the cycle. Brett Lawrie and Lind also went deep, while Colby Rasmus recorded four hits and scored the go-ahead run in the seventh.
The Blue Jays had 12 extra-base hits, which tied a franchise record and was something that had been done only four times before. The 12 runs were the most Toronto had scored since the club beat the Orioles, 13-5, on June 23.
Nearly all the damage in the seventh came against right-hander Paul Clemens, who was charged with six runs on four hits, a walk and a hit batter before he was mercifully pulled after recording just one out. What started off as a bang, ended as a nightmare.
"It's like getting your butt kicked, and you get back up and they kick you again," Clemens said. "It was a tough inning, tough inning. I can't dwell on it. I've got to continue to get better."
The offensive onslaught helped overshadow a rough outing by R.A. Dickey, who took the no-decision and narrowly avoided tying a career high with four consecutive losses. Dickey went six innings, and allowed five runs on seven hits and two walks with eight strikeouts.
Dickey had the most difficulty with Marc Krauss, who hit a two-run homer in the second and a two-run double in the fourth. The home runs have been a continuing problem for Dickey this season, as he has now surrendered a Major League-high 24 -- matching his total from last season -- with all but six coming at Rogers Centre.
"I feel like I've given up some wall scrapers this year, that's for sure," Dickey said. "I guess the good news is both pitchers have to pitch in this park. I'm not the only one. There's no room, or no time, to pout about that. So you just put your head down and keep try to get outs.
"I didn't do it very well tonight. But we had a great offensive night. I mean, this night should definitely be about Edwin. What he did, how momentous. To get to see something like that is pretty neat."
Powered by the late-inning comeback, the Blue Jays have now won two consecutive games against the lowly Astros. The short winning streak couldn't have come at a better time, as Toronto entered the four-game series having lost seven straight and was in desperate need of turning things around.
"That's something we've missed lately," Reyes said. "When we get down, we look like we give up, and today we were down by two runs but came back and had a huge inning. That's something we need to do, that's the way winning teams play."
Gregor Chisholm is a reporter for MLB.com. Read his blog, North of the Border, and follow him on Twitter @gregorMLB. This story was not subject to the approval of Major League Baseball or its clubs.