Infante halts rehab after ankle flares up in Class A game
Infante halts rehab after ankle flares up in Class A game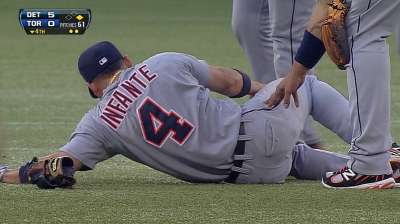 DETROIT -- Omar Infante was back in the Tigers' clubhouse Friday, but he might have been as far from returning from the disabled list as he was a few weeks ago. Instead of returning from the DL, Infante was waiting for another examination on his sprained left ankle after it flared up Thursday in his rehab start for Class A West Michigan.
Infante played four innings before leaving the game. He was originally expected to play six. The ankle flared up earlier in the game on the basepaths after he singled in his first at-bat.
"It was pain, same as in the past," Infante said. "I can hit good. It's just I can't run hard. That's when I felt it yesterday. I tried to run home and I felt pain."
Infante later said he also felt the ankle in the field when he would range to his left. He fielded only one ground ball, so there wasn't much opportunity to test it.
"When I move to the left side, I'm feeling it there," Infante said.
Infante originally hoped to spend the weekend rehabbing with Triple-A Toledo. Instead, his rehab is shut down until he can move around at game speed without pain.
That might take more than a few days.
"One more week, two more weeks, I think I'll feel better," Infante said.
Thursday marked Infante's first game at second base since July 3, when Colby Rasmus' takeout slide in Toronto left Infante with a shin contusion and ankle damage. The latter was originally expected to be a secondary injury compared to the shin, which took a direct hit on the slide. While the swelling vanished from the shin within a few days, Infante's ankle has proven tougher to heal.
Jason Beck is a reporter for MLB.com. Read Beck's Blog and follow him on Twitter @beckjason. Bobby Nightengale is an associate reporter for MLB.com. This story was not subject to the approval of Major League Baseball or its clubs.