Izturis comfortable playing every day
Izturis comfortable playing every day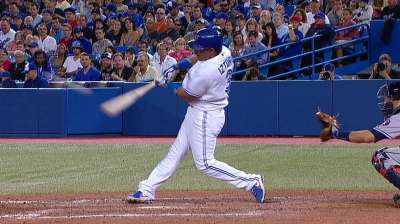 TORONTO -- After eight seasons in Anaheim, it's taken Maicer Izturis a little while to get comfortable in his new surroundings.
The 32-year-old infielder struggled in the season's opening months as he adjusted to a new city and a new club.
That's all behind him now, as Izturis has become more reliable in the field and has raised his batting average and on-base percentage in every month this season. Entering Friday, he was hitting .328 with a .403 OBP in July and has become an everyday player at second base.
"It feels more comfortable to play every day," Izturis said. "I've been in the league for eight years. It makes a big difference when you know your role and know that you're playing."
Since June 10, Izturis has raised his batting average from .202 to .249, and he's reached base safely in 15 of his last 17 games, including a walk in his first at-bat on Friday. He finished 1-for-4 with a go-ahead RBI double in the Blue Jays' 12-6 win over the Astros.
"It looks like he's settled in," manager John Gibbons said. "Here's a kid who's had a good career helping some good teams out there in Anaheim, and now we're starting to see it the last couple of months. He's really turned it on."
Entering Friday's game against the Astros, Izturis was third on the team with 19 hits and nine RBIs in July.
Evan Peaslee is an associate reporter for MLB.com. This story was not subject to the approval of Major League Baseball or its clubs.