Delmon returns to Detroit after prolific postseason
Delmon returns to Detroit after prolific postseason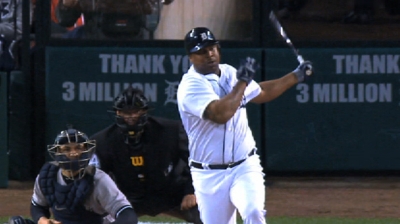 DETROIT -- Delmon Young is back in Detroit for the first time since the World Series, which he helped Detroit reach with his Most Valuable Player performance in the American League Championship Series.
"It's cool you know, come back here get to see all the guys again, and it's just good to be back here," said Young, who hit .313 with three home runs and nine RBIs in 13 postseason games.
Young signed a one-year deal with the Phillies in January and is thrilled that he doesn't have to be any team's regular designated hitter, though he will fill that role at Comerica Park on Friday night.
"DH-ing is very boring, especially if you don't get a hit," Young said. "You go try to critique and analyze your swing and change it three or four times before your next at-bat. So it's fun to be back in the field, especially right field."
Along with his postseason accolades, Young hit .267 with 18 home runs and 74 RBIs last season with the Tigers. Whether those numbers and his clutch hitting in the postseason will earn him cheers from the Comerica Park crowd, he isn't quite sure.
"I don't know," Young said. "I'm just trying to come here and put some wood on [Tigers starter Doug] Fister. It would be nice that happened, but if it doesn't, it doesn't. I'm just excited to actually be back here."
Jason Beck is a reporter for MLB.com. Read Beck's Blog and follow him on Twitter @beckjason. Bobby Nightengale is an associate reporter for MLB.com. This story was not subject to the approval of Major League Baseball or its clubs.