Big inning spoils Krauss' career night
Big inning spoils Krauss' career night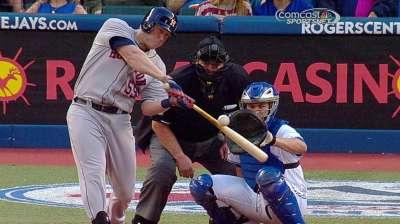 TORONTO -- It was only a day earlier that Astros manager Bo Porter addressed reporters about how he was concerned about his bullpen's penchant for giving away late leads and hinted some changes could be made if the relievers couldn't find a way to right the ship.
The last thing Porter wanted to witness was a shocking meltdown like the one in the seventh inning on Friday night, when the Blue Jays erupted for eight runs, including three homers, against the Astros' bullpen, and ran away to a 12-6 victory at Rogers Centre.
Houston's beleaguered relief corps has allowed at least one run in 10 straight games, posting an 8.01 ERA in that span, and has given away several late leads.
"It's not good," Porter said. "At this stage of the season, you would think that guys would get better. That has not happened. We are in a complete funk as far as the bullpen goes, and I'm trying to find someone down there other than [closer Jose] Veras to come in and give us quality innings, and it's just not happening right now."
Blue Jays designated hitter Edwin Encarnacion slugged a pair of home runs in the rocky seventh, capped by a grand slam off Hector Ambriz. Astros reliever Paul Clemens endured the brunt of the damage, allowing six runs in the inning, including back-to-back homers by Encarnacion and Adam Lind.
"It's like getting your butt kicked, and you get back up and they kick you again," Clemens said. "It was a tough inning. I can't dwell on it. I've got to continue to get better."
The Blue Jays smacked the ball hard all night, pounding out a club-record-tying 12 extra-base hits, including a season-high-tying five homers. Colby Rasmus went 4-for-5, Jose Reyes was 3-for-3 with two walks and a homer and Encarnacion became the first Jays player to homer twice in the same inning since Joe Carter on Oct. 3, 1993.
"We've been seeing it all year," Toronto manager John Gibbons said of his team's offense. "It's a great place to hit, it really is. We came and swung it tonight. We really came to life late. Take the lead and open it up. It was a battle early. We were down, and we were battling."
Behind a career night from rookie outfielder Marc Krauss, who hit a two-run homer in the second inning and added a two-run double in the fourth, the Astros built a 4-2 lead against 2012 National League Cy Young Award winner R.A. Dickey.
"It's one of those days you see the ball well and put some good swings on it and good things end up happening," Krauss said. "It's always easier to hit when there's guys on base, and the guys in front of me did a great job of having good at-bats and being on base, and I was fortunate enough to cash in a couple of times."
The Blue Jays chipped away against Astros starter Jordan Lyles, who battled through five innings and allowed four runs on nine hits and three walks. Still, Lyles was in position to win the game after the Astros took a 6-4 lead in the seventh inning on an RBI single by Jason Castro.
"I felt like Jordan did a great job of battling," Porter said. "He didn't have his best stuff tonight and he battled and give us everything he had and put us in position. He gave us a chance to win the ballgame, and from a starter's standpoint that's what you do when you have the ball."
Things unraveled quickly in the seventh for Clemens, who allowed consecutive homers to Encarnacion and Lind to start the inning. The first six batters reached against Clemens (4-4), and they all scored.
"It thought I had my stuff," Clemens said. "I was a little spotty with my curveball. I hadn't thrown it in a while. There was no inclination they were going to hit balls hard. I felt good out of the stretch, felt good with my command. It's just I got my butt waxed there for a minute. Now it's time to move forward."
Porter was asked if any changes were afoot for the bullpen, which couldn't protect the lead or a tie in all three games of the series against Oakland earlier this week. Among the options at Triple-A Oklahoma City are Kevin Chapman (3.18 ERA in 39 games), Jason Stoffel (4-1, 2.22 ERA in 31 games) and Josh Zeid (4-1, 3.46 ERA in 41 games).
"We're going to look at trying to find upgrades," Porter said. "At the same time, I keep saying, as long as those guys are here, I'm going to give them the ball and give them an opportunity. When we get ready to make changes, we'll make changes at that time, but until then, they're going to continue to get opportunities."
Brian McTaggart is a reporter for MLB.com and writes an MLBlog, Tag's Lines. Follow @brianmctaggart on Twitter. This story was not subject to the approval of Major League Baseball or its clubs.