Sparks throws BP in preparation for Dickey
Sparks throws BP in preparation for Dickey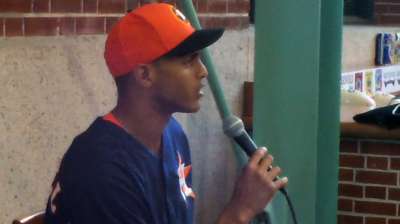 TORONTO -- Astros broadcaster Steve Sparks pulled double duty on Friday.
Sparks, a former knuckleball pitcher who spent nine years in the Major Leagues, dusted off his right arm and threw two rounds of batting practice in the batting cage prior to the game against the Blue Jays, who were starting knuckleballer R.A. Dickey.
The Astros got seven hits and five runs off Dickey in six innings, but lost, 12-6, to Toronto.
Astros hitting coach John Mallee and assistant hitting coach Dan Radison asked Sparks, who's in his first year in the radio broadcast booth, if he would be willing to throw to the Houston hitters.
"I threw two groups to everybody and got them to see a bunch of knuckleballs," Sparks said. "I wasn't watching the ball today, and it didn't feel like a lot of them were coming out of my hand really good, but I think just being able to see the ball dance just a little bit, and how it wouldn't come out like a normal fastball, I think is beneficial for a lot of these guys.
"By the second round when they were hitting off me, I could see some guys were making some good adjustments. I think it paid off, to be honest with you, but we'll see what happens in the game."
Sparks, who last appeared in the Major Leagues with Arizona in 2004, said that during his playing career, the Yankees offered to pay his way to come and throw batting practice to them prior to a playoff game against Boston in which Tim Wakefield was going to pitch.
Sparks declined the offer because he was still an active player and shared agents with Wakefield.
"They said, 'We'll put you up, take care of you. Just name your price,'" Sparks said. "I didn't do it because I felt like I was kind of breaking the code. I can't remember if anybody else has ever asked me to do it, but I felt like now that I'm employed by the Astros, I can definitely do it."
Brian McTaggart is a reporter for MLB.com and writes an MLBlog, Tag's Lines. Follow @brianmctaggart on Twitter. This story was not subject to the approval of Major League Baseball or its clubs.