Mets fall on walk-off after yet another Harvey gem
Mets fall on walk-off after yet another Harvey gem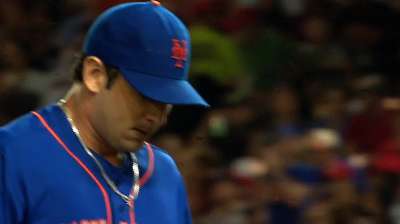 WASHINGTON -- When Matt Harvey made his Major League debut on July 26, 2012, the expectations surrounding him and the team were moderate. A former first-round Draft pick, Harvey had struggled at times in the Minors before earning the call. Around him, the Mets were reeling toward their fourth straight fourth-place finish.
Since then, Harvey has developed into one of the best pitchers in the National League, but the Mets have not always parlayed that into a better showing. Despite Harvey's eight strong innings in the nightcap of Friday's doubleheader, the Mets split the double dip when Ryan Zimmerman hit a walk-off homer off LaTroy Hawkins in the ninth. That sent them to a 2-1 loss, after winning Game 1 in an 11-0 blowout.
"We had a chance to win this game," Hawkins said. "I gave up the home run, but we played well the first game. We've been playing well about the last six weeks."
The Mets took an early Game 2 lead off Washington starter Ross Ohlendorf when Josh Satin and John Buck both doubled in the fourth. Ohlendorf was otherwise strong, striking out eight while allowing six hits and just the one run.
Though Harvey proved better, he earned a no-decision by giving back the run an inning later on Daniel Murphy's throwing error. After Justin Turner made a sensational play on Wilson Ramos' ground ball up the middle, gloving it and flipping to second base all in one motion, Murphy attempted to catch and throw the ball with similar fluidity. His attempt sailed well wide of first, allowing Jayson Werth to score an unearned run.
"Everybody did what they were supposed to do except for me, so that's a tough one to swallow right there," Murphy said. "It stinks. I just got caught up in [Turner's] great play. He fed it to me and I had all the time in the world, and I threw it in the crapper. It cost us the ballgame."
The Mets did fight back, putting the tying run on third base with one out in the ninth, but Juan Lagares popped up and Murphy flied out to end that threat. Hawkins then entered in the bottom of the inning, falling behind Zimmerman before serving up an opposite-field homer to end things.
"It was just a fastball behind in the count, 3-1," Hawkins said. "You don't want to walk him right there. He hit the ball to the opposite field? You tip your hat to him."
"I just finally didn't try to do too much," Zimmerman said. "Obviously with Harvey starting, it's tough to get any runs. But Ohlendorf stuck right there with him, and after how that first game went, that was a huge win."
The result was a starkly different version of events than what unfolded in Game 1, when Jenrry Mejia's strong effort and a late offensive outburst led to an 11-0 Mets victory. Making his 2013 debut after recovering from the latest in a laundry list of arm injuries, Mejia did enough to make the Mets draw up plans for a six-man rotation going forward.
Though most teams are hesitant to run with six starters, the Mets are embracing the concept in large part because of what it will do for Harvey and Zack Wheeler. With both young pitchers on pace to shatter their previous career-high innings totals, the Mets are looking for ways to reduce their workloads in the second half; a six-man rotation will shave off starts for both of them.
Harvey's high innings total is mostly due to his long run of success, dating back to his July 2012 debut. Over the first calendar year of his career, Harvey pitched 196 1/3 innings in 30 starts, ranking third best in the Majors with a 2.38 ERA and fifth best with 227 strikeouts.
He contributed eight more innings Friday, striking out seven and walking one in a defeat that was certainly not his fault. For the second time this season, Harvey did not win a game despite allowing zero earned runs, which helps explain why he only has 11 career victories despite all his successes.
"My job is to go out there and put up zeros," he said. "It's just one of those games, it was a tough loss for all of us. But we realize we've got a quick turnaround, and another game [Saturday] and Sunday to try and beat these guys in the series."
Anthony DiComo is a reporter for MLB.com. Follow him on Twitter @AnthonyDicomo. This story was not subject to the approval of Major League Baseball or its clubs.