Pitching like an ace, Tillman backed by four HRs
Pitching like an ace, Tillman backed by four HRs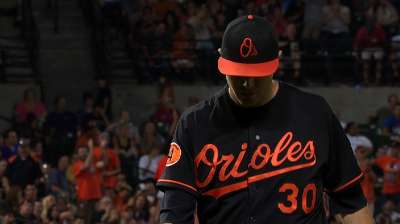 BALTIMORE -- Chris Tillman began his day at work Friday by handing out All-Star gear to his teammates hours before first pitch. The black-and-orange hats and blue All-Star T-shirts were met with what appeared to be genuine appreciation. But his gifts were just a small token compared to his outing against the Red Sox, when he allowed just two hits over seven scoreless innings in the Orioles' 6-0 win at Camden Yards.
The Orioles also knocked four home runs -- including two by center fielder Adam Jones -- to beat their American League East foes behind Tillman, who has acted an awful lot like an ace for Baltimore this season.
Tillman doesn't have the head-turning strikeout totals of a prototypical ace, and he's benefitted from great run support, but he again pitched like an ace Friday. The right-hander, who has already eclipsed previous career highs in starts, wins and strikeouts, kept one of the top offenses in check and registered eight strikeouts against three walks.
"Much needed," said Adam Jones of Tillman's effort. "He's throwing the hell out of the ball, all year.
"I think this is that year that he takes that turn for the better, loses the prospect status and starts putting himself in the 'top of the rotation' conversation. He's going out there and doing it. That's what we ask of him. He's got the talent. He's got the stuff."
Tillman may not be the world-beater one would expect from an ace on a team in playoff contention, but lately, he's been beating just about every team he faces. He's earned a win in 10 of his previous 12 starts, and has taken just one loss in that span.
Friday's was an important win for a few reasons. The Orioles were reeling, having lost three straight to drop a four-game series to the Royals. They dug in Friday night after the seven-game road trip, knowing full well the importance of a series with the Red Sox, who entered the weekend leading the AL East.
In that light, Tillman's seven-inning gem was vital, because it snapped a losing streak and helped the Orioles pick up a full game on the Red Sox. Baltimore is 3 1/2 games out of first place. In his past four starts against Boston, Tillman is 3-0 with a 0.68 ERA.
He's the first Orioles pitcher to win 13 games since Erik Bedard finished with 13 in 2007. He's also the first Orioles pitcher to be 10 or more games above .500 (13-3) since Mike Mussina in 1999, according to the Elias Sports Bureau.
"For the team, it's special," Tillman said, downplaying his role in his win-loss record. "I think it's a team achievement, it's not me. I think, you know, it wouldn't have happened if we weren't swinging the bats the way we are; it wouldn't have happened if we weren't playing defense the way we are. I think it goes to show where this team is now opposed to in the past. I think all the pieces are starting to come into place."
In a rotation that has been inconsistent, Tillman has been steady at home and on the road. Detroit's Max Scherzer and Tampa Bay's Matt Moore are the other two pitchers who have at least six wins both at home and on the road.
"He's certainly developing quite a track record," Orioles manager Buck Showalter said. "You hear a lot of people talk about good pitchers: that you need to get them early before they find their stuff. He's kind of following that mode. There's a lot of good pitchers who have followed that over the years. Chris was really good. He was a difference-maker tonight."
As Tillman was quick to note that the offense backed him up in this one. Jones drove in three runs on a pair of opposite-field homers off Boston starter John Lackey. Jones' first, a two-run shot, came in the first inning and turned out to be all the offense Tillman and the bullpen would need.
The Orioles have homered in 11 consecutive games against the Red Sox dating back to last season.
Nate McLouth tripled and later scored in the third. The next batter, Manny Machado, drove home McLouth with a single up the middle to make it 3-0.
Jones hit another opposite-field homer off Lackey in the fifth. His 22nd of the year gave the Orioles a 4-0 lead and gave Jones his third career multi-homer game. His most recent multi-homer game was May 29, 2012, against the Blue Jays.
Machado drove a 2-1 fastball out of the park to left field in the seventh to chase Lackey and give the O's a 5-0 lead. J.J. Hardy tacked on a solo shot in the eighth to set the final score, 6-0.
Tillman got out of a first-inning jam with a big strikeout. Dustin Pedroia singled, then David Ortiz and Mike Napoli walked. But Tillman fanned Daniel Nava to escape unscathed on 22 pitches. He settled down and retired 18 of the final 20 batters he faced.
"We had the makings of an inning in the first. We couldn't push one across," Red Sox manager John Farrell said. "Then Tillman settled in and threw a lot of strikes. Good curveball."
Tillman said it was cool handing out the extra All-Star gear because he's been on the receiving end of those gifts before. He said there might even be more to come in the next few weeks. And while he was talking about T-shirts emblazoned with All-Star logos, his teammates are probably hopeful there are more starts like Friday's in the future, too.
Derek Wetmore is an associate reporter for MLB.com.. This story was not subject to the approval of Major League Baseball or its clubs.