Red Sox shut out by O's, drop into second place
Red Sox shut out by O's, drop into second place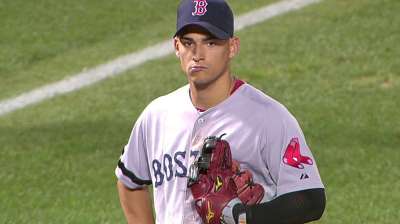 BALTIMORE -- After holding sole possession of first place for 60 straight days, the Red Sox were knocked from that perch on Friday night at Camden Yards, rendered punchless by Chris Tillman in a 6-0 loss to the Orioles.
More concerning for Boston than the move to second place is that the offense has been overpowered three times in the last four games, albeit to three pretty top-notch starting pitchers in Matt Moore, David Price and Tillman.
In this one, Tillman allowed two hits over seven innings, walking three and striking out eight.
The Red Sox continue to lead the Majors in several key offensive categories, so a breakout might not be far behind.
Dustin Pedroia, one of the catalysts of Boston's lineup, can sense things have been different during this mini-rut which has included being shut out three times in a span of nine games.
"I think we need to get more back to what makes us good, grinding out at-bats," Pedroia said. "I think a lot of guys are trying too hard right now. We've got to let the game come to us and find a way, if a starter has great stuff, find a way to get him out of there. We haven't done that the last week or something. We'll get back to that tomorrow and start being a better team offensively."
John Lackey, who has been dominant in most of his starts the last couple of months, wasn't as sharp in this one.
Over 6 1/3 innings, he gave up nine hits and five runs, walking one and striking out two. It was Lackey's lowest strikeout total since June 10.
He gave up three home runs, two of them opposite-field jobs by Adam Jones.
"I felt OK," said Lackey, who is 7-8 with a 3.19 ERA. "They kind of took advantage of a couple of things. Ballpark got me a little bit, a couple of times. Their guy pitched pretty good."
While the Rays are the team that vaulted a half-game ahead of the Red Sox in the American League East, the Orioles are also a concern.
The O's are in third place, three games behind Boston. In eight head-to-head meetings with Baltimore this season, the Red Sox are 2-6.
"We had some things fall our way," said Orioles manager Buck Showalter. "We know there are so many teams in division. You know the road to competing passes through them. That's a given with them."
In the grand scheme of things, Boston is a veteran team that knows full well there are more than two months of season left.
"Relax, it's not end of the world," Shane Victorino said. "It's part of the game. You win some, you lose some."
Seven games into a 10-game stretch against all AL East competitors, the Red Sox are 3-4.
"I mean, they all count the same," said Lackey. "We've got, I don't know how many games left, what, 50 or 60 left. We've got to take every night serious. It's a tough division and you've got to win as many as you can."
It's probably nothing an offensive resurgence can't cure.
"There's times when two or three guys go in funks and other guys step up," Pedroia said. "Right now, everybody is trying to be the guy that gets us out of it. That makes it tough. Because then you try too hard and are coming out of what makes you good. You've got to kind of take a step back and have quality at-bats and pass it to the next guy."
It turns out that the Red Sox had their best chance in the first inning, when they loaded the bases with two outs. Pedroia came through with a single to left. David Ortiz and Mike Napoli drew walks. But Daniel Nava struck out swinging, ending that threat.
Who knows how different things could have turned out if Boston had broken through in the first?
"Absolutely," said Pedroia. "That's the thing. First game of the series, if we get a big hit, quiet the crowd a little bit and that gets us rolling [it could have changed things]. I like the way we got to that point. I mean, the more opportunities that we have with the bases loaded and guys grinding out at-bats, the better. David's at-bat was great. Nap's at bat was great. That's what makes us good. Over and over, one through nine. We've got to do that."
Lackey got into some trouble right out of the gate. Nick Markakis jump-started the Orioles in the first with a two-out single to left. Jones followed with a two-run homer to right.
Nate McLouth opened the third by belting one to center that was just out of the reach of Jacoby Ellsbury for a triple. Manny Machado followed with an RBI single up the middle, and the Orioles had a 3-0 lead.
The Red Sox came up with a big play on defense in the fourth. On a single to right by Brian Roberts, Victorino came up throwing and nailed J.J. Hardy at the plate.
However, Victorino's play didn't create momentum for the offense. The Boston bats continued to be overpowered by Tillman.
Through the first six innings, Tillman allowed just two hits -- a single by Pedroia in the first and a double by Ellsbury in the fifth.
Jones belted his second homer of the night in the fifth and Machado blasted one over the wall in left in the seventh to make it 5-0. Hardy added a solo shot off Jose De La Torre in the eighth for the game's final run.
"We've got to adjust to the pitcher on the mound. In those games referenced, they've attacked the strike zone early, they've pitched ahead in the count for the most part, with the exception of the first inning, where we were able to bunch a couple of walks in there," said Red Sox manager John Farrell. "Other than that, when we've gotten some pitches on the plate -- like tonight -- we square some things up, it doesn't go our way. But the opposition has attacked the strike zone early and gotten ahead of us."
Ian Browne is a reporter for MLB.com. Read his blog, Brownie Points, and follow him on Twitter @IanMBrowne. This story was not subject to the approval of Major League Baseball or its clubs.