Fast start helps Rays top Yanks, gain first in AL East
Fast start helps Rays top Yanks, gain first in AL East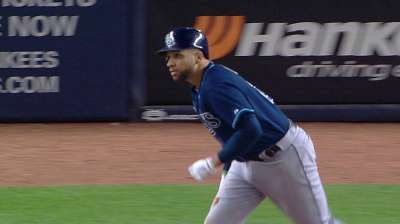 NEW YORK -- Joe Maddon allowed that Friday night's 10-6 win over the Yankees at Yankee Stadium wasn't an oil painting, adding "they can't all be." But the Rays' manager will take it since it propelled the Rays into first place in the American League East.
After taking two out of three from the Red Sox in Boston, the Rays traveled to New York to begin a three-game weekend set against the Yankees trailing the Red Sox by a half-game. The combination of the Rays' win and Boston's loss to the Orioles put the Rays in first place for the first time since April 6, when they were tied with the Orioles and Red Sox. They have not been alone in first place since June 10, 2012.
"It's been outstanding to watch our guys perform," Maddon said. "We were playing such a great game, not just a good game tonight, and unfortunately we let them get back up a little bit, but nevertheless, held on."
Maddon referred to the fact that the Rays held a 10-1 lead at one point before the Yankees scored two in the eighth and three in the ninth to make it interesting. Closer Fernando Rodney finally came in to get a game-ending groundout to third while picking up his 25th save of the season.
The Rays (61-42) are now 6-1 on their current 10-game road trip to start the second half, and they have won 16 of their last 18 games.
Tampa Bay got off to a good start Friday night when it scored six times in the second against CC Sabathia. Yunel Escobar doubled in a run, Evan Longoria delivered a two-run double, Sam Fuld singled home one, Wil Myers plated a run and the Rays scored another thanks to a wild throw to first by Yankees catcher Austin Romine on Desmond Jennings' bunt single.
"That's probably the most frustrating part about it," Yankees manager Joe Girardi said. "They had one run in, I think a guy on second with two outs, and [Sabathia] wasn't able to complete the inning without giving up a few more runs, and that's the frustrating part, because you can live with giving up one, you can live with giving up two, but when it's a six-run inning, that's pretty difficult."
Added Maddon: "[Sabathia] tries to get you to expand your strike zone. And we were. But we got that one good inning that permitted us to get on top. But he's a very bright pitcher."
As intoxicating as the second inning was for the Rays, the third was equally as deflating when they loaded the bases with no outs and did not score. Sabathia buckled down to strike out James Loney and Jose Lobaton before Fuld flew out to center to escape the jam.
Romine's one-out single off Jeremy Hellickson in the third got the Yankees on the scoreboard for what looked to be the start of a big inning after they loaded the bases with two outs for Alfonso Soriano.
The veteran slugger, who played for the Yankees from 1999-2003, was playing in his first game back with the club since being acquired in a deal with the Cubs. But Hellickson retired Soriano on a flyout to right to end the threat.
Hellickson weathered another potential storm in the fourth, when the Yankees' first two hitters reached base. Hellickson then struck out Travis Hafner, retired Brent Lillibridge on a flyout to center and got Romine to ground back to the mound for the final out.
Loney added an RBI single in the fifth and a three-run homer in the seventh to push the Rays' lead to 10-1.
Hellickson surrendered one run on four hits and two walks while striking out three en route to his 10th win of the season. The 26-year-old right-hander has won his last six decisions.
"It feels good [to be in first place]," Hellickson said. "Like I said, our offense has been there the whole year. Ever since we got David [Price] back, we kind of got in a groove, pitching-wise. We just go out there and be aggressive and let our defense work."
The Rays were one game over .500 when Myers joined the team. They are now 19 games over .500 just a little over a month later.
"We're all just having fun here," Myers said. "Everybody's doing their job. We're pitching and hitting well. I feel like we're getting timely hits, and our bullpen is coming in and shutting the door. So it's a lot of fun in the clubhouse right now. Everybody's staying loose, and it's a good time."
First place always seems to be that way.
Bill Chastain is a reporter for MLB.com. This story was not subject to the approval of Major League Baseball or its clubs.