CC's struggles continue, Yanks fall in Soriano's return
CC's struggles continue, Yanks fall in Soriano's return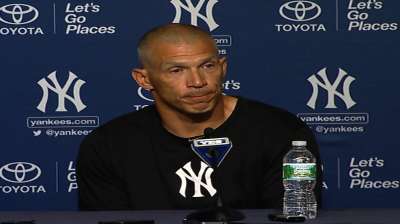 NEW YORK -- By the time Alfonso Soriano stepped up to the plate for his first at-bat in the Bronx in nearly 10 years, a Yankees victory already looked out of reach.
The Rays shelled Yankees starter CC Sabathia in the second inning, scoring six runs on five hits as the left-hander labored through a 29-pitch frame. Sabathia settled down some after that, but the damage was already done as Tampa Bay took a 10-6 win over New York on Friday.
"It's just a number of things," Sabathia said. "I feel like over my career, I've been able to avoid the big inning. Lately, I haven't been able to make the pitch."
Shortstop Yunel Escobar, left fielder Sam Fuld, center fielder Desmond Jennings, third baseman Evan Longoria and right fielder Wil Myers each had RBI hits in the second inning. The final four hits of the inning came with two outs, and the four batters Sabathia faced saw just six combined pitches.
"That's probably the most frustrating part about it. They had one run in, I think a guy on second with two outs and [Sabathia] wasn't able to complete the inning without giving up a few more runs," Yankees manager Joe Girardi said. "You can live with giving up one, you can live with giving up two, but when it's a six-run inning, that's pretty difficult."
Sabathia ended up pitching five innings, allowing seven earned runs on nine hits while striking out six and walking three. In his last five starts against Tampa Bay, Sabathia has given up 28 earned runs in 32 2/3 innings, good for a 7.71 ERA.
"I feel like my stuff is a lot better than it was early in the year," Sabathia said. "I feel like it's back and a lot better, but I'm just not making pitches."
Friday's start marked the first time in his career Sabathia has given up at least seven runs in three consecutive starts. He gave up eight runs (three earned) against the Twins on July 14 and seven runs against the Red Sox on Sunday. It was also the first time Sabathia has lasted five innings or fewer in three consecutive starts since June 2005.
"As good as he's been, it's just really shocking what he's going through," Girardi said. "So we're back to the drawing board, see if we can figure it out before next Friday."
Soriano's newly acquired bat wasn't enough to spark the Yankees' offense, which mustered just four hits and one run off Rays starter Jeremy Hellickson. Catcher Austin Romine drove in the team's only run off Hellickson, continuing his recent hot streak with an RBI single in the third inning.
The Yankees had a chance to put more runs on the board in the inning after loading the bases with two outs, but Soriano flew out to right field to end the threat.
Soriano -- who was acquired in a trade with the Cubs on Friday -- finished his first game back with the Yankees 0-for-5 with an RBI and a run, recording two flyouts, a groundout and two reached by fielder's choice, the second plating New York's final run of the night.
"It's a tough game tonight. But like I said, tomorrow is another day and another chance to win," Soriano said. "It's part of the game. Hopefully we have a better chance tomorrow.
"It was a good day for me today to have a chance to put the uniform on again."
The Yankees' offense came through for five runs in the game's final two innings, but the early six-run deficit -- as well as an RBI single in the fifth inning and a three-run home run in the seventh from Rays first baseman James Loney -- proved too much to overcome.
New York got a spark from infielder David Adams, outfielder Melky Mesa and catcher Chris Stewart, who replaced second baseman Robinson Cano, right fielder Ichiro Suzuki and first baseman Lyle Overbay, respectively, and went 5-for-6 with four RBIs and a run scored and forced Rays manager Joe Maddon to use four different relievers in the ninth inning.
"They actually needed to throw," Maddon said. "So in a perverse way, it might have worked out well. Nevertheless, you don't want an under-duress moment after you're up 10-1 and have to sweat one out. That's not cool."
The five late-game runs are a positive sign for a struggling offense. But when the Yankees' ace falters for the third consecutive start and leaves the offense with an early 7-1 deficit, those late-inning runs aren't able to have much impact.
"Everybody faces adversity and tough times in this game, and it's just up to me to go out and pitch better," Sabathia said. "Do a better job of helping this team try to win games."
Josh Vitale is an associate reporter for MLB.com. This story was not subject to the approval of Major League Baseball or its clubs.