Cashman keeps focus on A-Rod's rehab
Cashman keeps focus on A-Rod's rehab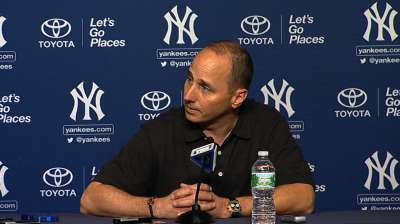 NEW YORK -- As the Alex Rodriguez saga continues to unfold, Brian Cashman continues to use his same strategy when pressed about the third baseman.
The Yankees' general manager is keeping his "eye on the ball," with the metaphorical ball being the 25-man roster he's spent all season juggling. He's fully disclosed Rodriguez's rehab plan, discusses anything he can release as fact and hurls "no comment" after "no comment" at reporters when some of Rodriguez's more outlandish escapades are brought up.
"Feel free to, I guess, reach out to Alex and ask him, because it's something that's hard to keep up with and follow," Cashman said, "so I can just provide you the facts, and that's what I'll continue to do. We're running a baseball team."
Rodriguez joined radio host Mike Francesa on his show on WFAN on Thursday and used a "no comment" of his own when he was asked about his trust in the organization. Cashman said he was aware of the interview, but declined to comment, as well.
Rodriguez will do some defensive exercises, take tee and toss batting practice and do some light conditioning on Saturday as part of the rehab plan that Cashman has laid out. The schedule has him also undergoing treatment and riding a recumbent bike.
"Tomorrow he'll do some light baseball activities, and then we'll progress from there and get him game-ready by Aug. 1," Cashman said Friday.
Rodriguez will still take some time to get into Major League shape, and when he arrives, he of 647 home runs, he'll almost certainly give New York a lift, even at 38 years old. Brent Lillibridge, who was batting .098 this season, started at third base on Friday.
"I've had good communication with Alex, so I'm not too concerned about that when he comes back," Yankees manager Joe Girardi said. "Obviously, our goal is to get him healthy so he can help us. I think that's important. Our communication has been fine, so that's really not a concern."
Cashman also took Friday to defend the medical staff that diagnosed Rodriguez with the quad strain that has now sidelined him.
Controversy stemmed from the third baseman reaching out for a second opinion without notifying the team. Cashman said that as part of the sport's Basic Agreement, Rodriguez could reach out to an approved doctor from the second-opinion list.
"We're very comfortable with our medical staff and our medical diagnoses," Cashman said, "and if someone is uncomfortable, they can certainly follow the course of the second-opinion list and utilize that."
The Rodriguez circus even extended beyond just the third baseman, the manager and the GM. First baseman Mark Teixeira, who is out for the season, was in the clubhouse on Friday and was asked about Rodriguez.
Why, a reporter asked, does everything seem to be "larger than life" with him?
"That's the nature of the business," Teixeira said. "Show business."
David Wilson is an associate reporter for MLB.com. This story was not subject to the approval of Major League Baseball or its clubs.