Teixeira taking rehab process one step at a time
Teixeira taking rehab process one step at a time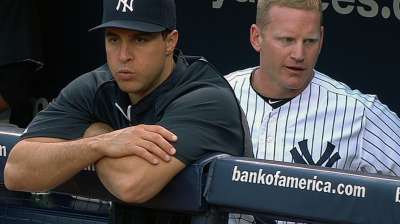 NEW YORK -- Until Thursday, Mark Teixeira had been in an elbow cast. He's now in one that ends just below his elbow. In two weeks, he expects to have a removable cast. Rehab -- that is strength-and-movement training -- will start at the end of August. He'll stick with that for a few months, and it will take him right up to the start of his offseason program on Nov. 1.
And if it sounds like a rigid schedule, that's because it is.
"I've got it all planned out, believe me," the first baseman said. "I had it planned out from the first day."
For now, Teixeira is spending summer at home for the first time since he was a kid. When he was growing up, he played with travel teams. Then in college, the Minors and the big leagues.
He doesn't usually miss any time, so wrist surgery has created an abnormal summer for Teixeira.
"It's kind of nice, spending time with my family and being normal," Teixeira said. "At 7 o'clock every night, it [stinks]."
In terms of rehab, Teixeira is still not allowed to do anything. He can drive his car, but he has to be careful with only one good arm.
Teixeira still doesn't have any regrets about holding off on surgery and forcing his way back. With a six-month rehab process, surgery in late March wouldn't have put him in the lineup until late September, and he'd still have to get his timing back. By the time he did that, he said, "[the] season's probably over anyway."
Teixeira will rehab in New York and then spend his offseason doing his program in Connecticut, as he usually does, and when he returns, he'll give the Yankees the healthy slugger they hope for.
"The only good thing about this is you don't have to get back as fast as you can," Teixeira said. "The doctor's always just going to make sure everything's healed up and we're taking it slow."
David Wilson is an associate reporter for MLB.com. This story was not subject to the approval of Major League Baseball or its clubs.