Big hit eludes Nationals in Game 1 defeat
Big hit eludes Nationals in Game 1 defeat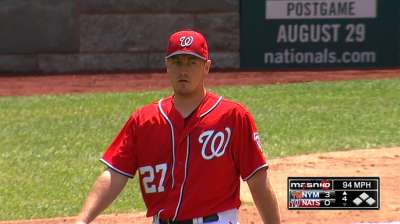 WASHINGTON -- Whatever shred of momentum that the Nationals had found after Thursday's dramatic walk-off win evaporated in the first game of their doubleheader against the Mets.
The Nationals' offense returned to its usual ineffectiveness, Jordan Zimmermann made a few early mistakes and Drew Storen pitched with the flu. The result was an 11-0 defeat against the Mets on Friday afternoon at Nationals Park, Washington's worst home shutout loss since August 2008, according to ESPN.
With the loss, their seventh in eight games since the All-Star break, the Nationals fell to only one game ahead of the Mets in the National League East. They were 8 1/2 games behind Atlanta entering the nightcap.
"It's over," manager Davey Johnson said of the matinee game. "I hate to even be in here talking about it."
Johnson said before the game that Storen had flu-like symptoms and wouldn't pitch at all on Friday "unless he has a dramatic recovery." Then, with the Nationals trailing, 6-0, in the ninth inning, Storen entered the game.
"He got to feeling a little better," Johnson said. "Had to use him."
In his first four pitches, Storen gave up a single to David Wright, a double to Marlon Byrd and a three-run homer to Ike Davis before retiring the side. After the game, two sources said that Storen was still sick and not happy that he was inserted into the game.
Zimmermann, meanwhile, was uncharacteristically wild for a second consecutive start. He allowed five earned runs on six hits over 6 2/3 innings, striking out eight but also walking three batters for just the second time all season. Zimmermann also needed 118 pitches to record 20 outs.
"He threw the ball good. He was strong," Johnson said. "Just not a very good outcome."
In his first 10 starts this year, the 27-year-old All-Star went 8-2 with a 1.71 ERA. In his past 11 starts, he is 4-4 with a 4.81 ERA.
Coming off the shortest outing of his career, Zimmermann gave up a solo home run to Daniel Murphy on the seventh pitch of the game. Murphy got a hold of a 1-1 slider and watched it ricochet off the facade of the second deck in right-center field, putting the Nationals in an early 1-0 hole.
In the third, Zimmermann threw another slider and Murphy hit his second homer, this time a two-run blast to the Nationals' bullpen in right field.
"He still was pounding the zone today, and I just got a couple sliders in the middle of the plate that kind of put me on time," Murphy said. "One of them fortunately I was able to keep fair, but that guy's a tough at-bat every time. I don't know how many I've got off him, but not one of them has been easy. So we felt real fortunate to be able to get to him a little bit today."
Murphy's second home run came immediately after Zimmermann had a conference on the mound with catcher Kurt Suzuki, who recommended that the right-hander throw a slider in. Suzuki accepted responsibility for the home run after the game.
"I felt like I pitched a lot better than what the stat line says," Zimmermann said. "I made two mistakes, three runs. I've thrown those pitches to Murphy plenty of other times and got him to ground out to second. Just today, it wasn't my day."
Zimmermann gave up five earned runs before turning it over to the bullpen. In his first appearance in more than two months, Ryan Mattheus allowed two hits, two walks and three earned runs while recording four outs. Then, in a surprising move, Johnson inserted Storen into the game with one out in the ninth.
"I know he's not feeling very well. That's just tough," Mattheus said. "I bet you if you ask him, he'd take the ball again. He's a tough kid. You gotta commend him for going out there."
Storen struggled to complete the ninth inning, and the Nationals couldn't mount a comeback. They were shut out for the 10th time this season. In their past five games, they are 5-for-27 (.185) with runners in scoring position.
Less than 15 minutes after the final out, Johnson was ready to put the game behind him.
"I'm actually glad we got another one tonight," he said.
Tom Schad is an associate reporter for MLB.com. This story was not subject to the approval of Major League Baseball or its clubs.