Constant adjustment part of Trumbo's offensive game
Constant adjustment part of Trumbo's offensive game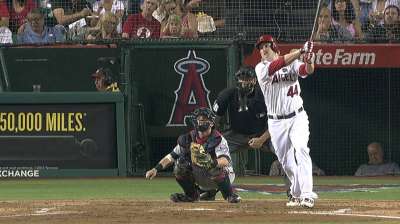 OAKLAND -- The ebbs and flows of a season are inevitable, and for Mark Trumbo, a power hitter with a long swing, they're even more pronounced. But that doesn't mean he doesn't feverishly look to make adjustments with his swing.
Few are more analytical about that component than Trumbo.
"I want to be a productive player, so I spend a lot of time thinking about what I can do to be better," Trumbo said. "I do make quite a few adjustments. It might not always look like it, but I'm always thinking about how I can get better."
Trumbo's most recent one -- the one that had him riding three straight multihit games heading into Thursday -- involves him getting his foot down earlier and going back to the swing he deployed in his final Minor League season of 2010.
Trumbo preferred not to get into the details of that new swing, but lately, he's been unafraid to go the other way and, as a byproduct of getting the foot down earlier, has sacrificed some power for more contact.
"This is a nice combination, but ultimately what I would like to see is me checking off a lot of pitches that I can't get to," Trumbo said. "That's going to be a very good indicator to me."
It's been an up-and-down season for the right-handed-hitting Trumbo, who entered the seven-game road trip with a .250/.314/.476 slash line and a team-leading 102 strikeouts. But he's made noticeable improvements in his defense at first base and right field, he's on pace for another 30-homer season -- while currently leading the Angels with 22 -- and he's already surpassed his previous career high in walks, with 37.
"It goes in waves, like anything," Trumbo said of drawing walks. "I wish I was a guy who walked 100 times a year, but the reality is, I've had to work pretty hard to improve upon it. I'm trying to pick my spots for it."
Alden Gonzalez is a reporter for MLB.com. Read his blog, Gonzo and "The Show", and follow him on Twitter @Alden_Gonzalez. This story was not subject to the approval of Major League Baseball or its clubs.