Putz provides encouragement to Hernandez
Putz provides encouragement to Hernandez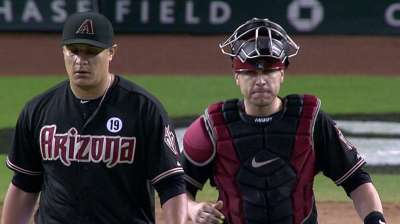 PHOENIX -- Sitting alone in the dugout Wednesday after allowing the game-winning run to score in the D-backs' 7-6 loss to the Cubs, David Hernandez received much-needed consolation from J.J. Putz, who recognized the vacant expression on his teammate's face and walked over to talk to him.
"I've had plenty of stretches in my career worse than the one he's on," Putz said. "So I told him not to give up, he's got way too much baseball left in him to worry about this stretch."
Hernandez has already blown five saves and taken six losses this season while his ERA (4.76) is currently more than two runs from where it finished last season (2.50).
"When you're going through a rough time, you feel like you're alone," Putz said. "You feel like you have nowhere to go and nowhere to turn to. So it's nice to know there are teammates there for you. We're are always here for him."
Earlier in his career when he was with Seattle, Putz got the same type of support from former big leaguer Eddie Guardado, and it's stuck with him ever since.
"I remember I had back-to-back games where I gave up grand slams," Putz said. "I was lost, I didn't know what I could do, but he talked me through it."
For Hernandez, he appreciated the encouragement in his time of need.
"He's just a great teammate," Hernandez said. "I've seen him go through struggles and he told me you just have to keep working."
Tyler Emerick is an associate reporter for MLB.com. This story was not subject to the approval of Major League Baseball or its clubs.