A's look to clean up after rough defensive series
A's look to clean up after rough defensive series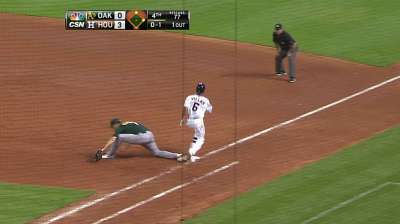 OAKLAND -- Wednesday's error-free game in the A's 4-3 victory over the Astros was a welcome return to form for a team that had committed a season-high three in each of the two games prior.
The back-to-back defensive debacles marked the first time the A's have posted consecutive games of three or more errors since Sept. 23-24, 2009; the three unearned runs allowed in their last three games matched the amount allowed over the 35 previous contests.
Oakland still pulled out the 2-1 series win over the Astros despite its lackadaisical defensive display. A's manager Bob Melvin credited his team's ability to continue notching victories in spite of its shoddy play.
"You know you're going to go through stretches where you don't play well," Melvin said. "Sometimes it's going to be the defense, sometimes it's going to be the hitting and sometimes it's going to be the pitching. When you're going through a period where you don't feel like you're playing well in a certain facet, it bothers you some, but you just have to tighten it up and play better because we have the ability to."
The A's own the 16th-best fielding percentage in baseball at .984, with 60 errors in 3,666 chances over 101 games.
"When you're not playing well, you're trying to stay away from losing too many series in a row, too many games in a row, and if you can scratch out a couple of wins and win a series like we did in Houston even though we didn't play great, I think that's a great sign," Melvin said.
Jeff Kirshman is an associate reporter for MLB.com. This story was not subject to the approval of Major League Baseball or its clubs.