Rosales aims to boost offensive production
Rosales aims to boost offensive production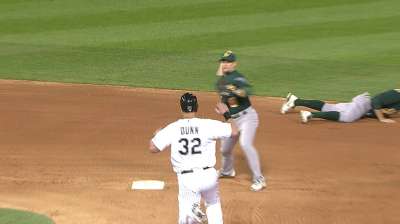 OAKLAND -- Adam Rosales was nestled in for a mid-morning nap on Tuesday when A's assistant general manager David Forrest called him with news that he had been recalled from Triple-A Sacramento.
"It was a great wake-up call to know that I'm coming back to help the team out," said Rosales, who joined the team in Houston on Wednesday.
The middle infielder's designation to Triple-A on July 8 served as a wake-up call in its own right that his offensive production will need to improve if he's going to prolong his stay in the Majors.
"Whenever anything like that happens, at least in my experience, it's always been a wake-up call to me," Rosales said. "I understand it's to get me right. And in order to play here, you got to be able to hit.
"It's the Major Leagues. You got to expect to hit and expect to perform every day, and I understand that and that's what the team needs from me, and I plan on doing it this time."
Rosales was batting .200 with four home runs and eight RBIs in 48 games prior to his demotion, and he batted .240 with six RBIs in six games with the River Cats.
Known more for his proficiency on the defensive end, Rosales said his confidence had dwindled at the plate in the weeks leading up to his stint in the Minor Leagues, adding that he's focusing on improving his mentality with his at-bats.
Oakland has committed seven errors in five games since the All-Star break, including six in two games against the Astros. Three of those were charged to Grant Green, who was optioned following Tuesday's loss in Houston.
Vinnie Catricala was designated to Double-A Midland to clear a spot for Rosales on the 40-man roster.
"I think if I continue to play solid defense, that's the No. 1 role for me, but I need to be able to help the team out on offense better than I was before," Rosales said.
Jeff Kirshman is an associate reporter for MLB.com. This story was not subject to the approval of Major League Baseball or its clubs.