Herrmann taking advantage of Mauer's absence
Herrmann taking advantage of Mauer's absence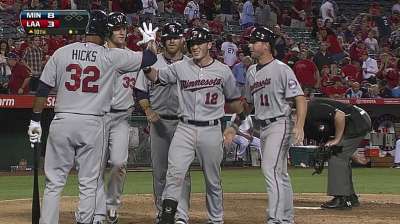 SEATTLE -- With Joe Mauer taking a brief paternity leave from the Twins to spend time with some newborn twins of his own, backup catchers Chris Herrmann and Drew Butera have each benefited from the veteran's absence. Herrmann was recalled from Triple-A on the 19th, and Butera came up from Rochester on Wednesday.
Herrmann has started three of the team's past four games, highlighted by a three-hit performance on Tuesday that included his first career grand slam. In 10 Major League games this season, the 25-year-old is hitting .346 with a pair of homers.
"I had an opportunity last year and I didn't really establish myself well," Herrmann said. "This time around, I've really focused more. I've taken it a lot more seriously like I should have last year. That's really helping me out a lot, down the road I'm going to look back at this moment and it's going to be something I'll never forget."
Butera has seen part-time action in each of the past three seasons, and made his first Major League appearance of the 2013 season in the Twins' 8-0 loss to the Mariners on Tuesday. After subbing in for Herrmann in the seventh inning, Butera flied out to center field in his only at-bat.
"It's nice," Butera said. "I enjoy putting on a big league uniform again. It's something that I've worked for my whole life, and it's good to be back with the guys."
In 25 Triple-A games this season as the third-string catcher, Butera hit .215. In his three extended Major League appearances the 29-year-old has never hit above .200. Still, the catcher isn't fretting over his performance when he gets into a game.
"I think if you put added pressure on yourself, it's hard enough to play the game alone," Drew said. "If you put more pressure on yourself to overperform or do something that you're not capable of -- that's when things start going wrong. I'm just going to do the best I can when I get called upon and take it from there."
Jacob Thorpe is an associate reporter for MLB.com. This story was not subject to the approval of Major League Baseball or its clubs.