Greinke's bid for 100th win spoiled by Latos, Reds' bats
Greinke's bid for 100th win spoiled by Latos, Reds' bats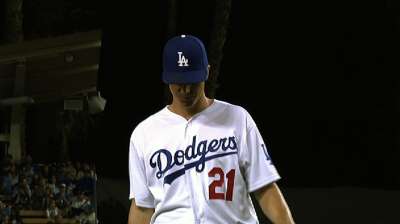 LOS ANGELES -- Zack Greinke and the Dodgers saw several streaks come to an end on Thursday.
Greinke lost for the first time in his past seven starts as the Dodgers fell to the Reds, 5-2, at a sold out Dodger Stadium to snap a six-game winning streak coming out of the All-Star break.
It was Greinke's first loss since June 16, and his first career defeat in seven starts against the Reds. The right-hander allowed four runs on six hits in seven innings, striking out four against one walk to come up short in his bid for his 100th career win.
"I made a lot of good pitches, but I made a couple of bad pitches and they capitalized on it," said Greinke, who gave up two home runs and lost at Dodger Stadium for the first time as a member of the home team. "The damage they did was big damage, it wasn't just a single."
Greinke gave up two runs over the first two innings, which was more than he'd allowed in his past three starts combined. Former Dodgers outfielder Xavier Paul homered to right in the first, while Todd Frazier doubled and scored on a bloop single by Cesar Izturis in the second.
But Greinke settled in and retired 10 of the next 11 batters before things went south in a hurry in the sixth. With the bases empty and two outs, Greinke hit Brandon Phillips with an 0-2 pitch. The next batter, Jay Bruce, launched a hanging curveball into the bleachers in left-center field for a two-run homer and a 4-1 Reds lead.
"I've got him out on curves a lot in the past, but he hit that one good," Greinke said. "It wasn't a good pitch. It's worked in the past, but it didn't work today. It was probably a mistake on my part. I thought the pitch was going to work no matter how I threw it."
Bruce was 2-for-21 lifetime against Greinke before the home run.
"He didn't make very many mistakes, but the ones he did make, we took advantage of," Bruce said. "That's what you have to do against a pitcher of that caliber."
While the Dodgers twice overcame deficits during a three-game sweep of the Blue Jays earlier this week, they couldn't do the same against Reds starter Mat Latos and scored fewer than eight runs for the first time in five games.
Perhaps the low output was a result of their cross-country flight after an extra-innings victory in Toronto on Wednesday night. But Dodgers manager Don Mattingly didn't offer any excuses and instead praised Latos, who allowed two runs in 7 2/3 innings to pick up his 10th win of the season.
"I thought our guys had very good energy today, you have to give their guy credit," Mattingly said. "Latos is a guy who has given us trouble in the past. He's got quality stuff. To me, every time you face him you've got your hands full."
While sometimes a detriment, Yasiel Puig's aggressiveness paid dividends in the fourth. The rookie led off with a single to center and took a wide turn at first base, which coaxed a wild throw from center fielder Shin-Soo Choo that bounced into the photo well. Puig was awarded third base and scored on a groundout by Adrian Gonzalez.
Carl Crawford led off the eighth with a double, moved to third on a groundout by Puig and scored on another groundout by Gonzalez, who leads the Dodgers with 64 RBIs and is hitting .318 with 16 RBIs in 20 games this month.
Puig had two of the Dodgers' eight hits. It was the third consecutive multihit game for the outfielder, and the 21st of his young career (45 games).
One year removed from coming to the Dodgers in a trade with the Marlins, Hanley Ramirez had two hits and a stolen base. The shortstop has reached base in 33 straight games, the second-longest active streak behind Reds first baseman Joey Votto, who singled twice to extend his streak to 37 games.
J.P. Howell relieved Greinke and tossed a scoreless eighth. The left-hander hasn't allowed a run in 13 of his past 14 appearances.
Pitching at home for the first time since coming to the Dodgers in a trade with the Cubs, Carlos Marmol allowed one run on two hits and a walk in the ninth. In two appearances with the Dodgers, Marmol has given up four earned runs over 2 2/3 innings with two walks. The right-hander has a 6.53 ERA in 33 appearances combined with the Cubs and Dodgers.
"I think his stuff is still good," Mattingly said. "He's getting better. We're just going to see what we get."
Austin Laymance is an associate reporter for MLB.com. This story was not subject to the approval of Major League Baseball or its clubs.