Reds cool Dodgers behind Latos, pair of homers
Reds cool Dodgers behind Latos, pair of homers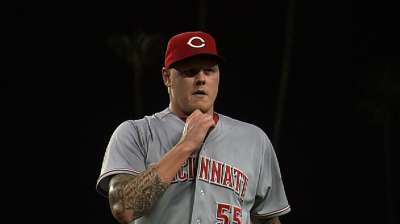 LOS ANGELES -- Who's afraid of the big, bad West Coast? Not the Reds.
On the heels of taking three of four from the reeling Giants, the Reds were presented with a much more imposing foe Thursday in the red-hot Dodgers and a top-end starter Zack Greinke. Add in a sold-out Dodger Stadium for Vin Scully Bobblehead Night and the conditions were far from optimal for the road team.
No problem on all accounts. The Reds took the lead early and opened the four-game series with a 5-2 win. A six-game Dodgers' winning streak was snapped while Cincinnati won its seventh game of nine, posting a 4-1 mark on the current 11-game road swing.
"I think the 'dreaded West Coast' is in the past a little bit, in my opinion. We're just trying to win ballgames," said Reds right fielder Jay Bruce, who hit a two-run homer in the top of the sixth inning.
In the previous two seasons, the Reds were 13-8 against the three National League clubs in California after years of frustration in the Pacific Time Zone.
"We've got a really good team," Reds starting pitcher Mat Latos said. "The pitching is coming together. The hitting is coming together. The defense is playing. When you have a lineup like we have and the pitching staff and we're swinging the bat good, we're going to win a lot of ballgames."
One thing the Reds might envy about the Dodgers right now is their upward mobility. They have gained no ground on the first-place Cardinals during their hot streak and remain five games back and third in the NL Central. Since June 21, the Dodgers are 23-6 and made up 11 games in the standings to lead the NL West.
Latos improved to 10-3 with a 3.39 ERA this season after a fine evening where he pitched 7 2/3 innings and allowed two runs (one earned) on eight hits with one walk and four strikeouts. Both runs scored on Adrian Gonzalez groundouts.
"I felt pretty good today," Latos said. "I was a little jet-lagged from the plane getting in at 2:30 this morning. All in all, I can't complain. That lineup that they have is a good one. I was able to work the fastball in pretty good.
"Them and Tampa are putting together a good run. They crawled all the way back from last place."
Latos got offensive support early as the game's second batter, Xavier Paul, put the Reds up 1-0 in the first inning by hitting a 2-0 Greinke pitch into the right-center-field seats.
In the top of the second with one out, Todd Frazier extended his hitting streak to eight games with a double down the left-field line. It was Frazier's sixth double during the streak and he scored on Cesar Izturis' two-out RBI single to center field.
Latos retired nine of his first 10 batters before Yasiel Puig led off the Dodgers' fourth with a broken-bat single to center. As Puig made a wide turn around first base, Shin-Soo Choo rushed a bad throw that skipped into the seats near the first-base dugout. The two-base error put Puig on third base and enabled him to score easily on a Gonzalez groundout.
In the sixth, following Joey Votto grounding into a double play, the Reds caught a break when Brandon Phillips was hit by an 0-2 Greinke pitch. Bruce followed by hitting a 2-2 curveball the opposite way for a two-run homer to left-center field -- his 21st of the year --and a three-run lead.
"There are many ways they can score over there," Reds manager Dusty Baker said of the Dodgers. "They've got speed. They've got power. That was a big, big home run that we needed."
Bruce, who was 0-for-11 during a three-game homestand vs. the Pirates, is 8-for-19 on the road trip.
The homer also boosted Latos, knowing he would face the heart of the Dodgers' lineup in the bottom of the sixth, beginning with Puig. Although Puig hit a single through the left side, he was erased by a Gonzalez double play.
"Now, I don't have to almost have to almost nitpick with [Puig], because he is such a good hitter and has such a good bat," Latos said.
Los Angeles stayed in the game with an eighth-inning rally against Latos. Carl Crawford led off with a double off the glove of a sliding Choo in deep left-center. Crawford scored from third on Gonzalez's second groundout, but Latos couldn't close out the inning and gave up Hanley Ramirez's scorched single through the left side. Lefty Manny Parra entered from the bullpen to face Andre Ethier and got a lineout to shortstop to end the inning.
Greinke, who had allowed only one run over his previous 22 innings in three starts, entered the night 4-0 with a 2.14 ERA in six career starts vs. the Reds.
"They've got probably the toughest lineup one through five in baseball for a right-handed pitcher," said Greinke, who pitched seven innings with four runs and six hits allowed. "I made a couple of mistakes and they came through."
Mark Sheldon is a reporter for MLB.com. Read his blog, Mark My Word, and follow him on Twitter @m_sheldon. This story was not subject to the approval of Major League Baseball or its clubs.