Twins unable to overcome Correia's rocky start
Twins unable to overcome Correia's rocky start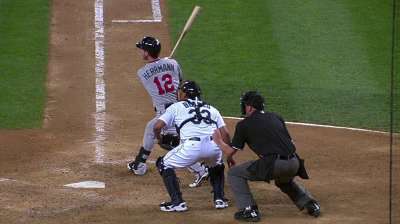 SEATTLE -- It took two innings for Seattle to knock Kevin Correia and the Twins out of the game on Thursday night. Minnesota's starter lasted just 1 2/3 frames, giving up six runs en route to an 8-2 loss in front of 18,135 fans at Safeco Field.
The Twins' bats were unable to scratch a run off Seattle starter Hisashi Iwakuma during his six innings, collecting just four hits while striking out nine times. Over his past four games vs. the Twins, he has gone 26 2/3 consecutive innings without allowing an earned run.
"I don't know if I'm good against this team in general," Iwakuma said. "I'm just able to pitch my game, keeping the ball down in the zone, getting ahead with my first pitch and just being aggressive with my fastball. That's been very effective against this team."
Correia entered the game having lasted at least five innings in all but one start this season. But against Seattle his pitch count, and his ERA, quickly ballooned. In his 179 career starts, Thursday's outing was the third shortest start of his career.
Because of the starter's early exit, the Twins were forced to rely heavily on their bullpen, using four relievers in the game. The relievers' endurance could be tested as Minnesota still has three games left to play in Seattle before their next day off.
"It was obviously my worst start of the year," Correia said. "I felt alright, I think the first half of the second inning I was making good pitches, it just kind of got a couple balls through the hole and then I make a couple bad pitches after that, and they just kept hammering them."
The righty struggled from the start of the decisive second inning, promptly giving up a double to Kyle Seager, who advanced on Justin Smoak's single. Seager was plated on Mike Zunino's single, and Dustin Ackley followed suit to score Smoak.
Brad Miller hit a double and Nick Franklin cleared the bases with a three-run blast to put the Twins in a 6-0 hole. Ryan Pressly came in to finish the inning, and Correia left having already thrown 46 pitches.
The loss is a tough stumbling block for the Twins, who had gone 4-2 on the road to start the season's second half. Minnesota is without star catcher Joe Mauer, who will be on paternity leave until at least Saturday's game.
"I think it's easier to shake off just because of how bad it was," Correia said. "I get more angry when I'm up two in the seventh and I give up a two-run home run. Today was just like, where do you start getting mad? You're going up against one of the best pitchers in the league and you give up six runs in the second, realistically you're probably not going to win that game."
The Twins mounted a response in the third inning. Brian Dozier and Ryan Doumit singled, and Justin Morneau reached base thanks to an error. But with the bases loaded, Trevor Plouffe struck out looking and Clete Thomas grounded out to end the inning.
In both the fourth and sixth innings, the Twins got a runner to second base on wild pitches. But Iwakuma recovered each time, ending both innings on strikeouts.
"You get a lead like that and guys like that know what to do with it," manager Ron Gardenhire said. "He's going to pound the strike zone in and out, and I thought we made him throw some pitches. We took some pitches and his pitch count was getting up there, but he also knows how to put people away."
Seattle tacked on two more in the fifth. Michael Saunders hit a single and Henry Blanco, who subbed in for Zunino after the catcher had a pitch hit his left hand, brought him home with a double, prompting manager Gardenhire to pull Pressly after three innings. Brian Duensing fared little better as his replacement, giving up an RBI double to Ackley on his first pitch to give Seattle an 8-0 lead.
With the game almost assuredly out of reach, Minnesota tacked on a couple of runs in the top of the ninth. Pedro Florimon hit a single to center field that was deflected by Franklin at second base. He advanced on defensive indifference and scored on Chris Herrmann's double. Herrmann then scored on a double by Doug Bernier to cap the game's scoring.
Jacob Thorpe is an associate reporter for MLB.com, This story was not subject to the approval of Major League Baseball or its clubs.