Iwakuma cruises past Twins as offense breaks out
Iwakuma cruises past Twins as offense breaks out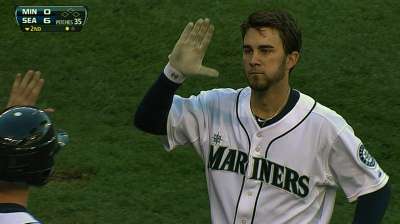 SEATTLE -- Hisashi Iwakuma continued his mastery of the Twins on Thursday with six scoreless innings and the Japanese right-hander got plenty of help from his offense as the Mariners rolled to an 8-2 victory in the opener of a four-game series at Safeco Field.
The Mariners' future continued arriving in impressive fashion as rookies Nick Franklin, Brad Miller and Mike Zunino helped ignite an offense that has led the American League in scoring during a 14-6 stretch in July.
Franklin ripped a three-run home run to highlight a six-run second inning and the trio of youngsters combined for five RBIs and three runs scored, though Zunino left the game in the fifth inning after taking a hard foul tip off his left wrist.
Dustin Ackley, another of the Mariners youngsters, was 3-for-4 with a pair of doubles as he's hit .341 over his last 14 games to raise his average to .224.
"I've just continued to work in the cage and get my confidence where it needs to be," Ackley said. "I'm going up there with the mentality that I'm going to get a hit every time and that's really what separates me now from me before."
The offensive outburst helped Iwakuma win his third straight decision as the 32-year-old improved to 10-4 with a 2.87 ERA as he allowed just four hits with one walk and nine strikeouts in his six frames.
Iwakuma has dominated the Twins in four games during his two seasons in Seattle, having yet to allow an earned run in 26 2/3 innings while racking up four straight wins.
"I don't know if I'm good against this team in general," Iwakuma said through translator Antony Suzuki. "I'm just able to pitch my game, keeping the ball down in the zone, getting ahead with my first pitch and just being aggressive with my fastball. That's been very effective against this team."
Iwakuma didn't get much help from his infield defense, with three errors plus several other shaky plays that kept innings alive. But he worked through six innings on 102 pitches and is now 5-1 at Safeco Field this season.
"He was outstanding," said acting manager Robby Thompson, filling in again for Eric Wedge due to his minor stroke earlier in the week. "Coming from an infield guy, I wasn't too pleased with our infield play. But he battled and he got himself out of it.
"A lot of times you have infielders or outfielders pick up the pitchers; well, he definitely picked up our infield tonight," Thompson said. "He threw more pitches than he should have, but he battled and beared down and got himself out of a couple of jams we put him into."
Zunino, who isn't expected to miss much time with his sore wrist, said Iwakuma has been back in his old form after a couple rough outings prior to the All-Star break.
"He got a ton of ground balls and that was the biggest thing," Zunino said. "We had a bunch of situations early where we got him out of there. He did a great job of battling and working down in the zone. The last few starts he's been really good at doing that."
Seattle has won nine of its last 10 games to climb within four games of .500 at 49-53. The Twins had won their first two series after the All-Star break, but fell to 43-56 with the loss and now face Felix Hernandez, who has his own streak of 24 straight scores innings against Minnesota.
The Mariners erupted for six runs in the second off Twins right-hander Kevin Correia, highlighted by Franklin's three-run bomb to right field. Correia lasted just 1 2/3 innings before manager Ron Gardenhire went to his bullpen, making it the third shortest start of 179 career outings for the veteran.
Seattle had seven hits in that frame, including doubles by Kyle Seager and Miller, and finished the night with seven extra-base hits (one home run and six doubles).
"They've gotten a lot better from early in the year until now," said Correia, who gave up four runs in 6 2/3 in a no-decision against the Mariners in early June. "They're hot right now. You can see they're aggressive and they're not missing pitches. It's tough to go against."
Franklin now has eight home runs and 27 RBIs in his first 49 games in the Majors.
"After his first inning, a couple of guys talked about it and everybody figured out what he was trying to do and we just kind of went from there," Franklin said of his home run. "Honestly, 0-2, I was just trying to make contact and put the ball in play. The infield was in and I was looking to get the ball in the air and get that run in somehow."
Rookie right-hander Danny Farquhar replaced Iwakuma and blanked the Twins in the seventh and eighth with three strikeouts before Oliver Perez gave up a pair of runs in the ninth.
Greg Johns is a reporter for MLB.com. Follow him on Twitter @GregJohnsMLB as well as his Mariners Musings blog. This story was not subject to the approval of Major League Baseball or its clubs.