Norris supplies offense; Straily can't contain Angels
Norris supplies offense; Straily can't contain Angels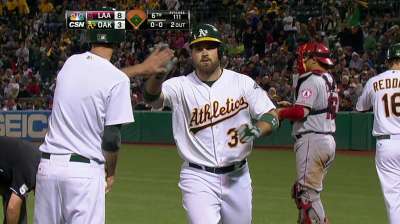 OAKLAND -- For much of the season, A's manager Bob Melvin has commended his team's ability to win despite spurts of futility in various aspects of the game.
Against Houston earlier in the week, it was Oakland's defense, culprit of a season-high three errors in consecutive days. Still, the A's pulled out the 2-1 series win over the bottom-feeding Astros.
More concerning and overarching is the A's sputtering offense, which struggled throughout their 8-3 loss to the Angels in Thursday's series opener at the Coliseum.
Oakland is batting below .200 and has averaged 2.36 runs per game over its last 13 contests, and in their past four games against the Angels dating back to last week's three-game series, the A's are averaging 2.5 runs per game.
"When you're not playing well, you're trying to stay away from losing too many series in a row, too many games in a row, and if you can scratch out a couple of wins and win a series like we did in Houston even though we didn't play great, I think that's a great sign," Melvin said before the game.
This isn't cause for panic. The A's still lead the American League West by 3 1/2 games over the Rangers and own the best record in the Major Leagues since July 1 of last year. But offensive showings like the one on display Thursday appear unsustainable when runs appear so difficult to come by and Oakland's normally reliable pitching staff has a misstep.
Dan Straily couldn't contain the Angels and exited after 4 1/3 innings in his worst outing of the month for the A's. He allowed seven hits and walked two, which led to five Angels runs, though he did strike out five to grab sole possession of the AL lead for strikeouts among rookies with 75.
"The first four innings, he was the guy who threw the one-hit, eight innings, two-hit, seven-innings the previous couple of outings," A's catcher Derek Norris said. "In the fifth inning, he came out and it seemed like he lost a little focus."
Straily has lost his past two games since his career-high five-game winning streak was snapped last Saturday. He was 2-1 with a 1.33 ERA and .167 opponents' batting average in July prior to Thursday and that shaky fifth inning.
The Angels scored four runs that inning before Jesse Chavez came on in relief and eventually allowed three more in the sixth.
"I felt like up until that point that I was commanding everything pretty good, and then pretty much out of nowhere, I wasn't able to correct myself, and it cost us the ballgame," Straily said. "Each pitch you try to adjust yourself and make a good pitch. It's just something that in hindsight you just realize that you have no command that inning. I left things up a little bit instead of putting things on the corner of the plate."
Erick Aybar crossed the plate first for the Angels on Mike Trout's sac fly in fifth and finished the night 2-for-3 with two runs, improving his batting average to .339 in 49 career games at the Coliseum. Mark Trumbo's double later in the inning drove in two more.
"We had a great approach with runners in scoring position tonight," Angels manager Mike Scioscia said. "A lot of hits just kept on going. We've had issues with guys in scoring position. We've been setting the table; we just haven't cashed in the way we need to. Tonight we did."
Angels left-hander C.J. Wilson picked up where he left off in a reprise of last Saturday's duel against Straily, cruising through the first three innings in a similar fashion as his 8 1/3 scoreless innings in Anaheim.
Wilson had pitched 11 2/3 consecutive scoreless frames before the A's crossed the plate twice in the fourth. They scored their first run of the game without the ball moving past the mound. Yoenis Cespedes walked, stole second and advanced to third base off a hard grounder back up the middle to Wilson before scoring on a wild pitch.
Chris Young later scored from second on a single by Norris, who hit his sixth home run of the year with two outs in the sixth.
Wilson finished the night with 123 pitches -- tying his season high -- over seven innings, allowing three runs on five hits with six strikeouts. He's 4-1 with a 1.25 ERA over his last six starts.
"I think he started pounding strikes more once they got the lead, and when you get behind in the count and now you're swinging at some first pitches, because he is trying to pound the strike zone," Melvin said. "I think he realized too after the first four or five innings that he had to throw some strikes."
The A's have now lost three of their last four games against the Angels after winning five of their first six. Los Angeles' eight runs matched the most runs scored at the Coliseum since April 29, when the Angels tallied that many in 19 innings.
"It's strange, but it happens," Norris said of the Angels' win. "It's part of baseball. We try our best to keep the game close for our guys to come through, and like everybody says, we always find a way to make it close and make it a game.
"Unfortunately, you have one of these nights every now and again where the game gets blown out of the water, and it's tough to come back from that."
Jeff Kirshman is an associate reporter for MLB.com. This story was not subject to the approval of Major League Baseball or its clubs.