Halos ride huge burst to rout in AL West clash
Halos ride huge burst to rout in AL West clash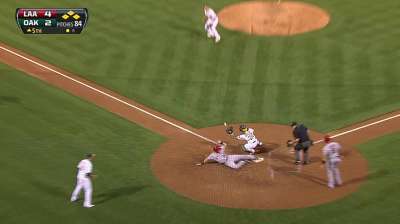 OAKLAND -- The ineptitude stayed with the Angels' offense for nine games. It started immediately after a 13-run night at Wrigley Field on July 10, clung to them through the All-Star break and reared its ugly head once again during the first two series of the ceremonial second half, manifesting itself into 2.1 runs per game and a .236 batting average.
Finally, in the fifth and sixth innings at O.co Coliseum on Thursday night -- and in the opener of a seven-game road trip that may define the Angels' season -- they shook it off, compiling seven runs on nine hits to back an effective C.J. Wilson and beat the first-place A's, 8-3.
"We know we haven't scored a ton of runs recently, but the at-bats have been good and the competitiveness has been there," Mark Trumbo said. "You never know. We can go on an absolute tear, and this could be a good start for it."
It's now or never, frankly.
The Angels, 4-3 since the All-Star break despite winning three of four against the A's, still find themselves 10 games back of first place and 48-52 through their first 100 games -- seven games off their 2012 pace at this point. They'll play three more games in Oakland, followed by three others in Texas (56-46).
They either make up significant ground, or they start looking ahead to 2014.
"We have to win every game, but if we can win against Oakland and Texas, it's even better," Wilson said after throwing seven innings of three-run ball. "We have a really long road to go.
"There's no sugar-coating way of making it look like it's all rosy. It [stinks]. We're way down in the standings. We have to really put it together, otherwise it's going to be a long offseason."
Josh Hamilton returned after missing the last three games with a stiff right ankle and Albert Pujols keyed an offense that did most of its damage in the middle innings, going 3-for-4 with a walk to give him a .379 batting average (11-for-29) since the All-Star break.
In the fifth, Mike Trout tied the game at 2 with a sacrifice fly on a long line drive to right field, Hamilton gave the Angels the lead on an RBI single -- his only hit in five at-bats -- and Trumbo provided some cushion with a two-run double in the left-center-field gap, chasing Dan Straily out of the game.
"I felt like up until that point that I was commanding everything pretty good," Straily said, "and then pretty much out of nowhere, I wasn't able to correct myself."
After loading the bases to start the sixth, Hank Conger scored on a Jesse Chavez wild pitch, Trout laced an RBI single to right field after fouling off four straight two-strike pitches and Pujols added another run-scoring single, giving him 1,496 RBIs for his career and all the Angels would need.
Over that previous nine-game stretch, the Angels batted .176 (13-for-74) with runners in scoring position.
On Thursday, when only one of their hits went for extra bases, they went 6-for-11.
"We had a great approach with runners in scoring position tonight," Angels manager Mike Scioscia said. "Albert got us going using the middle of the field and a lot of hits just kept on going. We've had issues with guys in scoring position. We've been setting the table; we just haven't cashed in the way we need to. Tonight we did."
Wilson had to battle a lot harder than he did five days ago, when he shut out the A's through 8 1/3 innings in what was easily his sharpest outing of the season. By the end of the fourth, he had given up two runs and thrown 91 pitches. Then he stopped aiming his curveball and took advantage of a three-run lead, retiring nine of his next 10 batters and throwing 32 pitches the rest of the way.
Wilson now has a 1.96 ERA in his last eight starts and is 11-6 with a 3.18 ERA on the year.
"It was a battle tonight," Wilson said after tying his season high with 123 pitches. "I didn't have my good stuff. I didn't have my good velocity and these guys just saw me. I had to switch the game plan up a little bit. It looked like they were all looking for breaking balls or something like that with two strikes, so I had to get a lot of strikeouts on fastballs."
Alden Gonzalez is a reporter for MLB.com. Read his blog, Gonzo and "The Show", and follow him on Twitter @Alden_Gonzalez. This story was not subject to the approval of Major League Baseball or its clubs.