Phillies place Brown on seven-day concussion DL
Phillies place Brown on seven-day concussion DL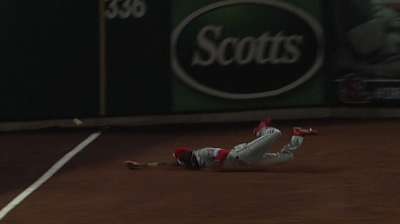 ST. LOUIS -- Domonic Brown sounded pretty optimistic he would be back in the Phillies' lineup Friday in Detroit.
But he will not be back until next Wednesday at the earliest.
The Phillies placed Brown on the seven-day concussion disabled list Thursday, which is retroactive to Wednesday. Brown suffered the concussion diving for Carlos Beltran's triple in the seventh inning in Tuesday's 4-1 loss to the Cardinals at Busch Stadium. The Phillies selected the contract of Triple-A Lehigh Valley outfielder Steven Susdorf to take his place on the 25-man roster. They also transferred left-hander Jeremy Horst to the 60-day DL to make room for Susdorf.
"I think they're just kind of being cautious about everything," Brown said. "A concussion is definitely nothing to play around with. I'm still kind of sensitive to the lighting. That's really about it. I haven't had any headaches or anything like that."
Losing Brown could not come at a worse time, with five games remaining before Wednesday's 4 p.m. ET Trade Deadline. Brown, who made his first National League All-Star team, is hitting .271 with 24 home runs and 69 RBIs this season.
Susdorf, whom the Phillies selected in the 19th round of the 2008 First-Year Player Draft, was hitting .335 with 13 doubles, one triple, one home run, 25 RBIs and an .847 OPS in 70 games this season for Lehigh Valley. He has hit a combined .304 with an .802 OPS in six Minor League seasons with the Phillies.
It doesn't get any easier for Philadelphia.
"I wouldn't have it [any] other way, son," Phillies manager Charlie Manuel said.
Is he sure about that?
"Yeah, I'm sure about it," Manuel said. "What the hell? You get slapped, then [gosh darn] you've got to slap back. That's all. That's how I look at it."
Todd Zolecki is a reporter for MLB.com. Zack Meisel is a reporter for MLB.com. Follow him on Twitter @zackmeisel. This story was not subject to the approval of Major League Baseball or its clubs.