Cardinals close homestand with sweep of Phillies
Cardinals close homestand with sweep of Phillies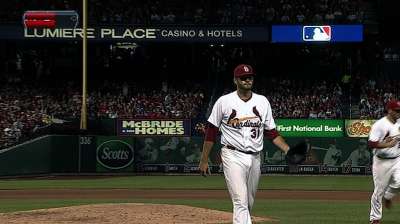 ST. LOUIS -- For all his recent struggles, Lance Lynn still managed to become the National League's fourth 12-game winner Thursday.
The pacing issues that plagued Lynn his last time out appeared to return, but they didn't last long as he overcame an escalating pitch count that surpassed 100 in the sixth to efficiently retire his last nine batters while the Cardinals hung on for a 3-1 win over the Phillies.
St. Louis recorded a three-game sweep of Philadelphia for the first time at Busch Stadium since Aug. 17-19, 2001. All three games of this series were sellouts, including Thursday's 45,567.
Lynn had given up four or more earned runs in four of his last five starts, struggling with a tedious pace in his last outing. But Thursday's 2-hour, 38-minute contest was a far cry from the 3-hour, 43-minute loss Saturday.
"That was what we had hoped to see," manager Mike Matheny said. "I thought he got better as he went. ... I thought he really did look good in the fifth, sixth, seventh. Better than how he started."
Before he got rolling, Lynn inefficiently plodded through the first few innings, eventually giving up a score in the fourth, when Erik Katz plated the Phillies' only run, driving in Laynce Nix with a single.
"I had some good stuff tonight early on, just like I did later," Lynn said. "But early on I hadn't had that kind of stuff in a while, so I had to kind of hone it in. I was able to do that later in the game."
Of nine baserunners Lynn allowed, only one reached home. He left the game after the seventh with a two-run lead and a pitch count of 118, his second highest total of the season. He tossed 124 in a win over the Mets in May. He surrendered five hits, with four walks and six strikeouts and also had a hand in turning all three Cardinals double plays.
"I've got to be a lot better than I've been, and tonight is hopefully the stepping stone going forward the rest of the season," Lynn said. "I love these guys in the clubhouse, I love pitching for this team. I love pitching in front of this home crowd, and tonight I wanted to show that."
Lynn is now one game behind teammate Adam Wainwright for the most wins in the NL. Lynn's 30 wins since the beginning of the 2012 season make him the winningest pitcher in the Majors during that span.
"I've had a pretty darn good team around me for the last two years," he said. "And hopefully I can keep pitching well and [they can] keep scoring runs and playing defense for me. And that's all I can control."
The Cardinals put up three runs in the third inning, and that was enough as setup man Trevor Rosenthal and closer Edward Mujica preserved Lynn's 3-1 lead. Pete Kozma opened the third with a leadoff single, and Lynn advanced him into scoring position with a sacrifice bunt. Matt Carpenter drove Kozma home with a single for his 50th RBI.
Carpenter didn't even need to reach second before Jon Jay hammered a triple to the center-field wall, escorting Carpenter safely home. Phillies starter Kyle Kendrick then walked Allen Craig, and Matt Adams followed with an RBI single before Kendrick could retire Yadier Molina and strike out David Freese to close the frame.
Kendrick exited after six, allowing three earned runs on five hits and two walks, striking out one.
"Just one bad inning," Kendrick said. "They were aggressive. One bad inning, you lose the game."
Mujica surrendered a single to Darin Ruf to start the ninth, but struck out his last two batters to record his 30th save, the 19th time a Cardinals pitcher has reached the mark in a single season.
"Pretty impressive, seeing that he got a real late start compared to everybody else, stacking up the saves," Matheny said of his closer, who took over the role on April 18. "Where would we be right now if he hadn't stepped up? So we're very proud of what he's been able to do, and he should be, too."
"In the beginning of the season, they just gave me the ball in the seventh," Mujica said. "I was never thinking about being a closer, especially for this team. And, you know, we've been doing a pretty good job. It's unbelievable for me."
The Cardinals will now turn their attention to what could be the most important road trip of the season, in which they will play 11 games in 10 days, eight of which are against divisional rivals Pittsburgh and Cincinnati.
"We know what's at stake and what we've got coming up," Carpenter said. "I think this club does such a good job of taking it day by day, and this series was a good example of it. You just show up every day ready to play, and next thing you know, you pile up a good homestand. I think we're going to take the same approach to this road trip."
Chad Thornburg is an associate reporter for MLB.com. This story was not subject to the approval of Major League Baseball or its clubs.