Holland a tough-luck loser in duel with Kuroda
Holland a tough-luck loser in duel with Kuroda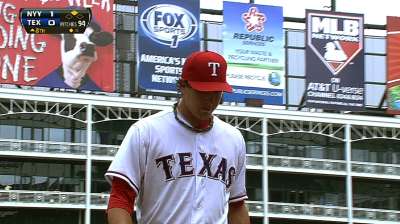 ARLINGTON -- Derek Holland delivered a quality start on Thursday, but as he and the other members of the Rangers' starting rotation know well, strong work on the mound doesn't correlate to run support. Holland couldn't match Hiroki Kuroda's stellar performance in Texas' 2-0 loss to the Yankees at Rangers Ballpark.
"[Holland] was very good," Rangers manager Ron Washington said. "It was a very good pitching duel going out there. Both pitchers did their job on each side. They just happened to take advantage of the opportunities to put runs on the board, and we didn't."
With the loss, which secured a split of the four-game series, Holland dropped to 8-6 this season.
Holland, whose start was pushed back a day to accommodate the Rangers debut of Matt Garza on Wednesday, was charged with two runs in 7 1/3 innings. The Yankees went ahead to stay in the sixth inning on Brent Lillibridge's RBI double to left field with two outs.
Holland threw 70 of his 94 pitches for strikes, but he left with one out in the eighth following Robinson Cano's double to right field. After Holland's departure, Eduardo Nunez gave the Yankees a 2-0 lead when he reached on a fielder's choice.
Holland gave up eight hits, including two ground-rule doubles, in his sixth straight quality start. There had been just three such doubles at Rangers Ballpark this season entering the game. The second of the day occurred in the seventh, when Austin Romine smacked a drive to center that held David Adams at third. Holland forced Ichiro Suzuki to ground out to shortstop to end the inning.
While the ball bounced Holland's way in those situations, the Rangers, who are shopping for a right-handed bat before next Wednesday's non-waiver Trade Deadline, were shut out for the sixth time this season. Across Holland's six losses this season, the Rangers have scored a total of one run for the left-hander with him still in the game.
"I don't think about it; I know what my offense is capable of," Holland said. "I'm not going to get caught up in that just because they didn't put up runs. I've got to do my job, and that's to limit the damage and keep the runs down."
Kuroda worked seven innings, allowing six singles to improve to 10-6 this season. The Rangers didn't have many opportunities to score against the right-hander, going 0-for-4 with runners in scoring position and leaving six runners on base overall. Texas had two on with one out in the third with the top of the order due up, but Ian Kinsler struck out and Elvis Andrus grounded out to Kuroda.
"I don't think I had any particular pitch that was working well," Kuroda said. "From the get-go, I didn't have a good outing, but I was able to get big outs and put up a decent outing."
Texas couldn't pull even in the sixth with runners on the corners after the Yankees took the lead in the top half of the inning. Kinsler led off with a single but was caught stealing second on a hit-and-run with Andrus at the plate. Nelson Cruz followed with a walk, and Adrian Beltre flied out to center to advance Andrus to third. After manager Joe Girardi visited Kuroda, the right-hander got A.J. Pierzynski to line out to a sliding Vernon Wells in left field to end the inning.
"It's just not hitting all the cylinders we need it to be hitting on," Washington said. "Just a little inconsistent, but we're going to keep grinding. It's not like a base hit can solve some things. We had some opportunities to get some base hits; we just didn't get it.
"We need all of these guys to do what they've always done on the back of their baseball cards. Baseball just doesn't work like that. There are times when things don't go your way, and you have to grind through it. That's exactly what we're doing -- trying to grind through it."
Making his final regular-season appearance at Rangers Ballpark, Mariano Rivera recorded his 33rd save in 35 opportunities this year. The Majors' all-time saves leader was honored by the Rangers during a pregame ceremony that included Rangers CEO Nolan Ryan, closer Joe Nathan and former teammate John Wetteland.
The Rangers are now 0-2-2 in their last four series against New York and finished their seven-game homestand with a 2-5 record. Texas has lost four straight series finales.
Master Tesfatsion is an associate reporter for MLB.com. This story was not subject to the approval of Major League Baseball or its clubs.