Ross back with team, expects to play this season
Ross back with team, expects to play this season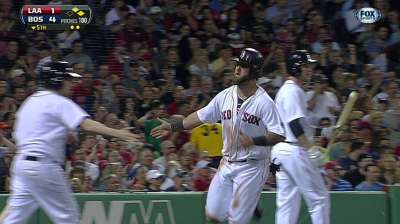 BOSTON -- David Ross isn't ready to play baseball again just yet, but the fact that he was back in the clubhouse on Thursday for the first time in weeks was satisfying to both the well-respected backup catcher and his teammates.
"It was rough there for a while," said Ross, who has been spending most of his time in Tallahassee, Fla. "I'm getting back. I'm glad to be back. It's a little frustrating watching things on TV, I know that. But I'm glad the guys have been playing well. I'm just glad to be back around these guys. I missed them a lot."
Ross has suffered two concussions this season, the second on June 14, in Baltimore.
There is a protocol he must follow through MLB before being cleared to play. To that end, he met again with Dr. Michael Collins, a concussion specialist, in Pittsburgh on Wednesday.
"I passed all the tests yesterday in Pittsburgh that they put me through," said Ross. "They want me to get back and get used to this environment and [being] around all these guys."
Though there is never certainty with concussion recovery, Ross is confident he will play for the Red Sox again this season.
"I'm very confident," he said. "That's the plan. I expect to be back as soon as possible. It's one of those things you can't push. I tried to push it. That's what got me into this predicament. It's just one of those things where I'm going to take my time and do what the doctor says. So far, so good. Now that I'm getting back healthy, I can really see how bad I was. It took being home and some downtime to figure that out."
What are the big issues Ross is having?
"My vestibular system is the part that's messed up, so it reacts with my eyes," he said. "But just headaches, a lot of upset stomachs, an unsettled stomach, like seasickness, kind of. Real irritability. I think my wife is glad I'm out of the house now.
"There were some spots where you get that headache coming on and some things are distracting you, and it just kind of gets annoying in your head, and your attitude changes. My wife says I'm not really 'behind my eyes,' she likes to say, that kind of stuff. I tell everybody there [wasn't] a whole going on up there before I got hurt."
Now that he is back with the team, Ross will be gradual in the pacing of what he does. For instance, he will start by staying in the dugout for just three innings.
"I've been working out," he said. "I've been doing a lot of weightlifting and some elliptical stuff. Playing catch. Hitting off the tee. It should pick up as long as everything goes well. It should pick up pretty fast. We're going to have to take things slow. I'll be doing some running drills and things with head movement, getting used to the environment; some of those things bothered me while I was at home.
"I'm just happy to be back today, not doing anything, just hanging out with the guys. I'll probably watch about three innings and then go home and pack and have a little bit of downtime and then come back and fly with them to Baltimore."
Ross is the type of teammate who helps just by being around.
"This is one of the most respected guys in our clubhouse," said manager John Farrell. "He's full of life and energy, and I think, for some of the younger guys, there might be a little bit of a calming influence just based on what he's experienced."
Ian Browne is a reporter for MLB.com. Read his blog, Brownie Points, and follow him on Twitter @IanMBrowne. This story was not subject to the approval of Major League Baseball or its clubs.