Weiss knows CarGo's K's come with territory
Weiss knows CarGo's K's come with territory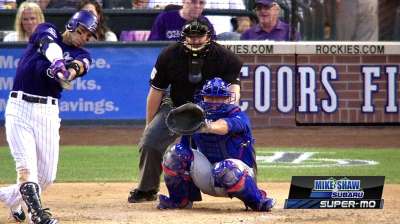 DENVER -- Rockies slugging outfielder Carlos Gonzalez entered Thursday afternoon tied with the Pirates' Pedro Alvarez for the National League home runs lead with 26 and leading in slugging percentage at .598, but also fourth in the league with 113 strikeouts.
With Gonzalez delivering a home run once every 14.5 at-bats, manager Walt Weiss is not bent out of shape about the strikeout total in and of itself.
"The number of strikeouts for me isn't the factor," Weiss said. "And CarGo knows this. It's about when they come. Let's face it: The guys that hit the ball a mile, like CarGo can, are going to strike out. It's the length [of the swing] and all that stuff. It comes with the territory.
"He knows that there are times when he needs to put the ball in play. He did [Tuesday night in a 4-2 loss to the Marlins] when he hit the ground ball and got the RBI. He's trying to do that. There's an awareness in those situations, where if he makes an out, then make a productive out. He's talked about it, to me and to Dante [Bichette, the hitting coach]. That was one of Dante's main points in the spring.
"He's done that at times, and if you ask him, he'd say he'd like to put the ball in play more in those at-bats."
Thomas Harding is a reporter for MLB.com. Read his blog, Hardball in the Rockies, and follow him on Twitter @harding_at_mlb. This story was not subject to the approval of Major League Baseball or its clubs.