Results, not average, important to Longoria
Results, not average, important to Longoria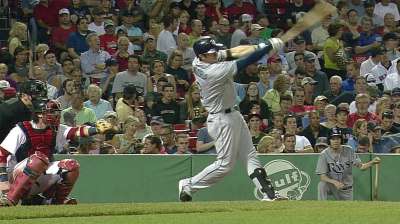 BOSTON -- Evan Longoria, who has hit safely in seven straight games, recently talked about his approach on offense.
"I just want to continue to produce," Longoria said. "The average is important, but in my mind it's not the most important thing offensively when you're looking at what you're trying to do as a team."
Longoria noted that a conversation with former Major League manager Tony LaRussa made him think a little bit differently about what a good offensive player should be trying to achieve.
"I asked [LaRussa] about Albert Pujols and what makes him the special player that he is offensively," he said. "And he had mentioned to me that Albert's biggest attribute offensively was that he was able to play the scoreboard. And for however you want to take it, you don't worry about getting a base hit in that situation, you just kind of worry about doing the right thing offensively. Not only trying to be a good player and getting a base hit, but being a good teammate."
Bill Chastain is a reporter for MLB.com. This story was not subject to the approval of Major League Baseball or its clubs.