Verlander hit hard during loss to White Sox
Verlander hit hard during loss to White Sox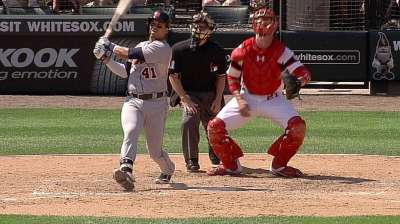 CHICAGO -- In the spirit of the throwback uniforms they wore Thursday afternoon, the White Sox put an old-school hurting on Justin Verlander.
Once upon a time, before he was a perennial All-Star, Cy Young Award winner and MVP, the White Sox had Justin Verlander's number. That was the case again Thursday.
Chicago tagged the Tigers' ace for seven runs on 11 hits in six innings of a 7-4 White Sox victory at U.S. Cellular Field. The Tigers still took three of the four games in the series -- two of three without Miguel Cabrera, who's still nursing a sore left hip flexor -- but missed out on the opportunity for their first four-game sweep of the White Sox since 1988 and the first in Chicago since 1980.
It's the first time the last-place White Sox have beaten Verlander in consecutive outings -- he gave up a season-high 12 hits and five runs in a July 9 loss -- since July 26-Sept. 14, 2008. Chicago went 11-3 in its first 14 games against Verlander, before the right-hander took hold of the division rivalry. Heading into Thursday, the White Sox were 2-12 in their last 14 meetings with the former MVP.
"It's testing me a lot," Verlander said of his difficulties this year. "These are things you learn from as you go through your career. Every year is not going to be easy. The last two years came easy for me. This year is coming extremely difficult for me."
Verlander has lost three of his last four starts and he's given up at least five runs in each of those losses. He has just two winning decisions since June 8, striking out only 31 in his last eight starts and never more than five in an outing during that span.
He said he's been tinkering with his mechanics alongside pitching coach Jeff Jones, and was encouraged by much of his performance. He cautioned Jones that he may be erratic for a start or two -- he walked two but needed 103 pitches Thursday -- but saw an uptick in his early velocity of 1-2 mph compared to what he'd normally throw in the early going.
"I know when it feels right, it feels right," Verlander said. "It was definitely the right move to make, especially when you've got guys like Max [Scherzer], Anibal [Sanchez], Doug [Fister] and Ricky [Porcello] throwing the ball well. It's not like the whole world's on my shoulders and I have to be great every time. What they've been able to do this year has afforded me the opportunity to work on some things."
In fairness, all four of Verlander's earned runs in the fourth could have been unearned depending on the ruling of a ball Andy Dirks missed in left field. With two men on and one out, Tyler Flowers ripped a sharp line drive at Dirks, who saw it glance off his glove. It was ruled a double, one run scored and Verlander would go on to surrender three more runs with two outs in the frame.
"It's not a tough play. It's a ball I should have caught and just missed it," Dirks said. "I took a half-step in and when I went back -- I just reached my glove up, it didn't go in. … It was a big play in the game, I didn't make it and that's just what happened."
Chicago scored twice in the first on a Paul Konerko single and a Jeff Keppinger single that Torii Hunter misplayed in right. Flowers also hit a solo homer in the sixth, extending the lead then to 7-2.
"My first at-bat he made me look like an idiot," Flowers said of Verlander. "He hit 99, painted a couple sliders and a curveball. After that first at-bat, I was thinking it might be a long day. But I was fortunate he threw me a couple pitches I could hit."
Three of Detroit's four hits against Chicago's Jake Peavy -- and all of its runs -- came on long balls from Hunter, Victor Martinez and Brayan Pena. Hunter, who left the game late with a sore left Achilles, hit three homers in the four-game series.
Hunter's batting .349 with 17 runs, four doubles, two triples, six home runs and 18 RBIs in 20 July games and said he would have no problem being back in Friday's lineup. Hunter chalked it up to a new pair of dress shoes that fit uncomfortably and gave him some trouble Thursday.
He left the clubhouse, dressed in formal attire for travel, with sneakers on.
"I'm a gamer, man," Hunter said. "I come ready to play. You know that. I'll be in there tomorrow. Don't worry about it."
Joey Nowak is a reporter for MLB.com. Follow him on Twitter at @joeynowak. This story was not subject to the approval of Major League Baseball or its clubs.