Amid trade rumors, solid Peavy tops Tigers
Amid trade rumors, solid Peavy tops Tigers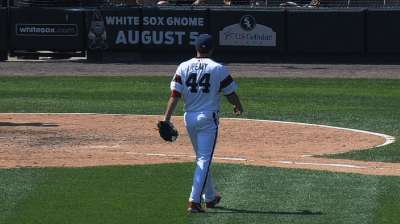 CHICAGO -- If the White Sox 7-4 victory over the Tigers on Thursday afternoon at U.S. Cellular Field indeed stood as Jake Peavy's last start for the team, then his run in Chicago certainly ended triumphantly.
There were standing ovations from the 30,348 in attendance after Peavy (8-4) finished the seventh, when it looked as if his day was done, and then one batter into the eighth, when he actually departed. "Sweet Home Alabama" played as Peavy tipped his hat on both occasions and waved to the crowd.
He did not have to acknowledge the 10 or so scouts representing contending teams from Boston, Texas and Atlanta, to name a few. They got what they came for via the right-hander's impressive effort that just might have capped off his frequently successful but at times injury-riddled five years since coming over from the Padres.
As for a gut feeling concerning whether he stays or goes before Wednesday's non-waiver Trade Deadline, Peavy wasn't ready to hazard a guess.
"My gut feeling tells me I could be traded and I could be a part of this going forward," said Peavy with a resigned smile. "Either way, I'll be OK. I'm a big boy and understand the situation.
"I'll be happy to stay here and be the best teammate I can be, grind it out the rest of the season and make sure we keep playing hard and show up to win every day. If I get traded, I'll give the boys a big hug and I'm sure a few tears will be shed, leaving the friendships here.
"Then I'll go play as hard as I can to help the next ballclub I'm on," Peavy said. "Just going to take it in and we'll see how the next few days play out."
Peavy gave up four runs on four hits in helping the White Sox (40-59) avoid a four-game sweep at the hands of the American League Central-leading Tigers (56-45). Three of those hits were home runs from Torii Hunter, Victor Martinez and Brayan Pena.
His 118 pitches featured consistent velocity in the 92-mph range and movement to both right-handed and left-handed hitters. It's the sort of effort that certainly would help a postseason-bound team, especially coming in Peavy's second start since returning from a fractured rib in his left side.
"He was better than four runs, but in those situations you don't want to walk guys and create momentum for the other team, and then they hit it out," said White Sox catcher Tyler Flowers. "No big deal. He did a good job competing all day."
"What we've expected of him, as advertised." Tigers left fielder Andy Dirks said. "He mixes in some offspeed and comes at you when he has to, but he pitched a pretty good game."
While Peavy was fanning seven and walking just two, Justin Verlander (10-8) looked mortal for his second straight start against the White Sox. He yielded seven runs on 11 hits over six innings, striking out four and walking two, meaning Verlander has allowed 12 runs combined during his two 2013 losses to the South Siders.
Verlander dropped consecutive starts to the White Sox for the first time since July 26-Sept. 14, 2008 (three straight). The White Sox have a 3-12 record over their past 15 games when facing Verlander, compared to an 11-3 ledger in Verlander's first 14 career starts against them.
With the game tied at 2 in the bottom of the fourth, courtesy of Hunter's two-run shot in the top of the inning, the White Sox took control by scoring four. Flowers doubled home the go-ahead run with a one-out line drive off the glove of Dirks, and after an Alejandro De Aza strikeout, Alexei Ramirez delivered a two-run single and Alex Rios scored Ramirez with a single of his own.
Flowers added a solo home run in the sixth to complete the scoring.
"I probably didn't feel quite as comfortable as it looked, but I'm just trying to compete," said Flowers, who broke out of a 3-for-28 funk. "Just trying to go up there and put the ball in play and hopefully something good will happen."
All of Thursday wasn't good for the White Sox, carrying a common theme through this trying season, as reliever Jesse Crain had a minor setback with his sore shoulder and couldn't throw off the mound. He probably will not pitch in a Major League game before the non-waiver Trade Deadline.
Even Peavy's emotional start ended with Pena taking him deep. Nothing comes easy for the 2013 White Sox.
That ultimate decision for Peavy to stay or go is in the hands of White Sox general manager Rick Hahn and the offers from organizations who want to acquire Peavy's services. Peavy is under contract for $14.5 million in 2014, giving interested squads more control than a rent a player, which could up the ante.
A few bags have been admittedly been packed by Peavy, so he won't be caught off guard if a move happens. For now, he can enjoy the progress he made from Saturday's start to Thursday and take in the adulation from fans and teammates alike.
"It was very humbling. It was emotional for me," Peavy said. "If it was the last time I pitch here at U.S. Cellular, with this uniform on, it was a nice way to go out. It meant the absolute world to me. I hope everyone knows that."
"I'm kind of the guy that appreciates him being on our team right now," White Sox manager Robin Ventura said. "And I hope he's here through next year, too."
Scott Merkin is a reporter for MLB.com. Read his blog, Merk's Works, and follow him on Twitter @scottmerkin. This story was not subject to the approval of Major League Baseball or its clubs.