Content with approach, Andrus finds stroke
Content with approach, Andrus finds stroke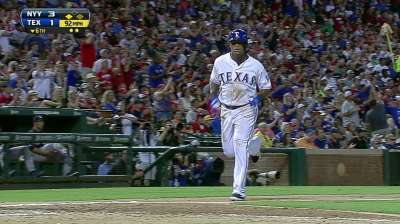 ARLINGTON -- The issue with the No. 2 spot in the Rangers' lineup seems to be resolved. Elvis Andrus hit second on Thursday against the Yankees for the second time in as many games and will likely remain there for the rest of the season.
Rangers manager Ron Washington said the shortstop has shortened his swing again, enabling a mini-hitting streak that Andrus extended to seven games with a single in the first inning on Thursday. Andrus entered Texas' series finale with the visiting Yankees hitting .278 with seven RBIs and 15 runs scored in his last 25 games.
"I got mad a little bit when they put so many guys [in the No. 2 spot]," Andrus said. "It makes it look like they don't trust me lately, but I know [Washington] was trying to take some pressure off me. He talked to me about it, and I was cool with it. You've got to understand to be a professional, whether you're doing good or doing wrong. It was a tough moment for me in the first half, but now in the second half, I feel way better. I feel my approach is back. I feel comfortable having a plan, and now I can execute it."
Washington said there will still be certain situations when Andrus will bat at the bottom of the lineup, but his opposite-field hit from the No. 2 spot in Wednesday's 3-1 win further proved that Andrus is on the right path.
"I might've seen an anxious guy, but I've never seen him not relaxed," Washington said. "He's been working his butt off, and hopefully it comes together, because he can do it."
Despite Andrus' troubles at the plate in the first half, he remained fairly consistent defensively. He also became the first player in Rangers history to record five straight seasons with 20 stolen bases.
"Last year I learned something good, and that's to separate offense from defense, and that's the way it should be for everybody," Andrus said. "It doesn't matter how you're hitting or running -- it can't affect the way you're playing defense. I think defense has to be an everyday thing.
"Hitting is not that easy. I think everybody knows that, but the difference is consistency. If you can go daily out there and help the pitchers, it makes a lot of difference."
Master Tesfatsion is an associate reporter for MLB.com. This story was not subject to the approval of Major League Baseball or its clubs.