Crain has setback with injured right shoulder
Crain has setback with injured right shoulder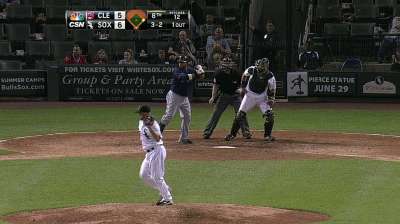 CHICAGO -- Two days after throwing his first bullpen session following a right shoulder strain that put him on the disabled list retroactive to June 30, White Sox reliever Jesse Crain played catch Thursday and afterward said "it definitely wasn't better today."
Crain added that "it's just something that never quite warmed up and it didn't feel good playing catch, let alone getting off a mound."
White Sox pitching coach Don Cooper called Crain's throwing session a "slight setback," and said that Crain now needs to consult with team trainers and doctors.
"You move forward," Cooper said. "[Crain] goes back in and talks to [White Sox head athletic trainer Herm Schneider] and talks to our people and figure out what's the plan now for him. I'm not sure what that plan is, but right now it's not throwing sidelines."
"I'm going to talk to trainers and doctors today and see what the next, you know, course is," Crain said. "But, you know, if there was an exact answer of how to fix it, we'd be doing it. You've got to go by feel and, you know, take it from there."
Before the injury, Crain, who has posted a 0.74 ERA in 38 appearances this season, was considered a trade target for teams looking for bullpen help. He was still firmly in the mix as he recovered from the shoulder setback.
But now that he is not likely to pitch in a Major League game before Wednesday's non-waiver Trade Deadline passes, he will likely be a waiver candidate or stay with the White Sox.
"It's still a process, day by day," Crain said. "Obviously I want to be getting better and I want to be able to pitch, most importantly. It's always discouraging when you work hard to get back and [the shoulder] is not responding."
Manny Randhawa is an associate reporter for MLB.com. This story was not subject to the approval of Major League Baseball or its clubs.