Claiborne holds special Arlington memories
Claiborne holds special Arlington memories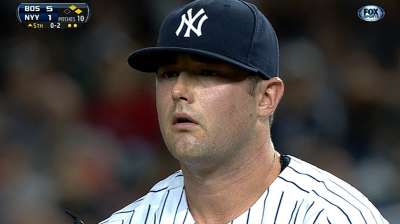 ARLINGTON -- Preston Claiborne can recall sitting in the green seats along the third-base line at Rangers Ballpark, watching his hometown Rangers try to outplay the visiting Yankees and marveling at how big a stadium can seem when you're 7 or 8 years old.
Claiborne also vividly remembers what his father, Michael, told him that day: The Yankees organization represented class, dignity and playing the game the right way. Claiborne absorbed the message.
"It was a Yankees-Rangers game, and my dad was telling me to play like the boys in pinstripes," Claiborne said. "Obviously, as a Dallas native, we were happy when the Rangers won and we cheered when we got a chance to go to the games, but I always grew up loving the Yanks and the way they went about their business."
Claiborne was born in Dallas and attended high school in nearby Carrollton, Texas, before heading to Tulane. The right-handed reliever said that he had been thrilled when the Yankees called his name in the 17th round of the 2010 First-Year Player Draft.
"When I was young, it was in the heyday of them winning their championships -- that's what I wanted," Claiborne said. "I wanted to be a part of these legendary teams, and now I have the opportunity to do that."
Claiborne's father passed away during the hurler's sophomore year at Tulane, but the memory of that first game made it a significant moment when the Yankees called upon Claiborne on Tuesday against the Rangers.
His spikes digging into the same playing field he once paid admission to see, Claiborne pitched 1 1/3 scoreless innings in the Yankees' 5-4 win.
"It was special, being that my first game was here with my father," Claiborne said. "But when I'm out there, I'm not thinking about special moments or anything, and I know he wouldn't want me to, either. When the skipper hands me that ball, it's business time and I've got to go to work."
Bryan Hoch is a reporter for MLB.com. Follow him on Twitter @bryanhoch and read his MLBlog, Bombers Beat. Master Tesfatsion is an associate reporter for MLB.com. This story was not subject to the approval of Major League Baseball or its clubs.