Tigers struggling to get through ninth with big leads
Tigers struggling to get through ninth with big leads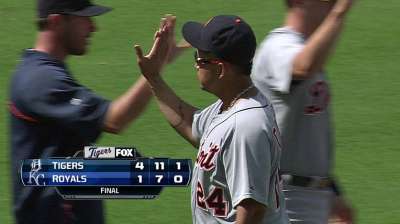 CHICAGO -- The Tigers have had their share of trouble in the ninth inning this year. But their difficulties this week haven't been blown saves.
Manager Jim Leyland called it "unacceptable" that the Tigers haven't been able to easily get through the ninth inning of games that are by and large out of reach. The last two games against the White Sox, he's been forced to bring in closer Joaquin Benoit in non-save situations because other relievers have run into trouble.
And, as Leyland put it in not-so-gentle terms, he doesn't like to fool around in a ballpark like U.S. Cellular Field, where the ball can fly out at any moment.
"The last couple days, our bullpen, as it turned out they really did the job, but they didn't do the job," Leyland said.
Phil Coke and Bruce Rondon combined to pitch a one-run ninth on Monday. Al Alburquerque pitched a spotless eighth but ran into trouble in the ninth on Tuesday, forcing Leyland to go to Benoit with a six-run lead. He gave up a two-run double -- both runs were charged to Aburquerque -- for the final four-run margin.
On Wednesday, Luke Putkonen and Coke combined to allow a home run and single in the ninth before Benoit was brought in with a four-run lead.
Because he had to come in for the ninth in Tuesday and Wednesday's games, Benoit was unavailable to pitch on Thursday, regardless of the circumstances.
"Those consequences of the last couple nights put us in a little bit of a bind," Leyland said. "That's something that has to be addressed. ... I'm not upset about it, it's just a common fact. If we have to use our closer with five-, six-run leads in the ninth inning, we've got problems. That should not happen."
Joey Nowak is a reporter for MLB.com. Follow him on Twitter at @joeynowak. This story was not subject to the approval of Major League Baseball or its clubs.