Brewers battle back, but fall short against Friars
Brewers battle back, but fall short against Friars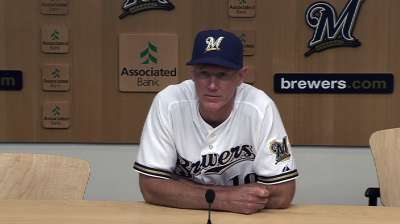 MILWAUKEE -- The Brewers' depleted offense found a way to put crooked numbers on the scoreboard, but so did a couple of pitchers on the trading block.
Two days ago after Milwaukee general manager Doug Melvin referred to right-hander Yovani Gallardo as "not somebody I'm motivated to move," Gallardo pitched like he wasn't going anywhere -- regardless of the team's non-waiver Trade Deadline intentions. Left-handed reliever Michael Gonzalez did not fare much better in a 10-8 loss to the Padres on Thursday afternoon at Miller Park.
Gallardo grappled for every out while allowing six runs over 3 2/3 long innings, and Gonzalez surrendered four more runs in the seventh to spoil a spirited effort for a Brewers offense playing without the heart of its lineup.
"We're not going to get offensive production like this very often, when you get that many hits and score that many runs," said Brewers manager Ron Roenicke, who is without Ryan Braun and Corey Hart for the rest of the season and injured Aramis Ramirez for the moment. "So we need our pitchers to really pitch well."
Yuniesky Betancourt, Carlos Gomez and Norichika Aoki hit solo home runs as the Brewers attempted to mount comebacks from deficits of 6-0 and 10-3. Betancourt had four hits, matching his total from his previous 13 games combined, and Gomez followed Wednesday's four-hit breakthrough with three more hits Thursday.
Twice, the Padres escaped with excellent defense. In the sixth inning, with two runs across and the bases loaded, Rickie Weeks smacked a comebacker to San Diego reliever Dale Thayer, who threw home to start an inning-ending double play. In the seventh, with five Brewers runs across and runners at second and third, Padres center fielder Will Venable made a sensational diving catch to rob Aoki of a potentially game-tying hit.
The Brewers dropped their first series without the suspended Braun, three games to one.
With scouts in the stands for his final home start before Wednesday's 3 p.m. CT Deadline to trade players without exposing them to waivers, Gallardo surrendered six earned runs on eight hits and three walks. Three of Gallardo's four strikeouts came in the third inning, when the Padres scored three runs, including a Carlos Quentin two-run homer.
"The ball was up in the zone from the first pitch of the game," said Gallardo, repeating a common refrain from his frustrating season.
"It is surprising," Roenicke said. "This is a guy that's always been known for his consistency and to be able to pitch a lot of games in a row where they're all great games, whether you want to call them quality starts or however you want to describe them, they're really good ballgames. And he does this for a long period of time -- and this year, he hasn't been able to do that. He's frustrated about it. We're certainly trying to figure it out and help him along with it."
Gallardo's ERA ticked upward to 4.88 in his 22nd start, more than a run higher than his career average.
"It's getting to a point where I might be overthinking too much stuff out there when I'm on the mound," Gallardo said. "Sometimes you have to go back to the basics. It's a lot easier said than done."
Location is one problem, and stuff is another. Gallardo has dismissed talk of his diminished velocity this season, but he has also lacked the usual "bite" on his curveball, a pitch he is actually throwing at the highest rate since 2009.
"When he's right, his curveball is almost unhittable," catcher Jonathan Lucroy said. "It's not as sharp and devastating as I've seen it. There have been games where I see it, and then games like today, where it's not there."
With his value at its lowest point since Gallardo arrived in the Majors in 2007, the Brewers may opt to keep him and listen to offers again in the winter. Gallardo is already under contract for 2013 at $11.25 million, and has a $13 million club option for 2015 with a $600,000 buyout. He has a partial no-trade clause that allows Gallardo to block deals to 10 teams.
Melvin has also been listening to interest in Gonzalez, a veteran who will be a free agent after the season. He took over in the seventh after the Brewers had cut the deficit to three runs, and surrendered four runs on four hits, the biggest a pinch-hit two-run home run by the Padres' Jesus Guzman that made it 10-3.
It was Guzman's third pinch-hit homer this season.
The Brewers came back again in the bottom of the seventh against Padres relievers Nick Vincent and Luke Gregerson. In one stretch, six consecutive Brewers batters reached safely, including Juan Francisco and Betancourt on RBI singles and Caleb Gindl on a two-run double. When pinch-hitter Khris Davis worked a walk and teamed with Gindl on a double steal, the Brewers had the tying run in scoring position for Weeks, who struck out, and Aoki, who was robbed by Venable in left-center field.
"I thought, off the bat, that it would fall in," said Joe Thatcher, the Padres left-hander who had replaced Gregerson to face Aoki. "If that ball gets down, it's a tie ballgame. But Will is one of the best outfielders in the game. He gets great reads off the bat."
For a fleeting moment, Roenicke did not think Venable caught the baseball.
"I saw movement, which made me believe the ball hit the ground first and then bounced into his glove," Roenicke said. "But they said on the replay, the movement was he caught the ball, he got his little finger underneath it and actually flipped it into the glove. That's pretty much what John [Hirschbeck, the third-base umpire] told me out there, and they were right on."
Adam McCalvy is a reporter for MLB.com. Read his blog, Brew Beat, and follow him on Twitter at @AdamMcCalvy. This story was not subject to the approval of Major League Baseball or its clubs.