Roenicke mulling ways to keep lineup fresh, productive
Roenicke mulling ways to keep lineup fresh, productive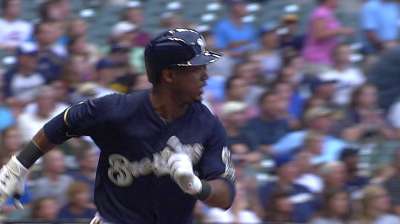 MILWAUKEE -- Jean Segura batted in the Brewers' No. 3 spot for the fifth straight game Thursday, including all four games since Ryan Braun was suspended for the remainder of the season, but manager Ron Roenicke is mulling a change.
Segura was 2-for-17 with one extra-base hit and two RBIs in his prior four starts hitting third, and Roenicke says a lineup change could happen, depending on performance and conversations with his All-Star shortstop.
"Now that we know that Ryan won't be here for the year, that third spot, I want to try to figure out how to do that right," Roenicke said. "I don't know if that's a place that [Segura is] comfortable staying. I want him to be comfortable. He's done such a good job for us, I hate to put him in a spot where he's not comfortable in the lineup."
Segura, who entered Thursday second on the Brewers with 31 extra-base hits, had not hit a home run in 119 plate appearances entering the team's series finale with the Padres. He had five doubles and no triples in that span.
Roenicke does not attribute Segura's recent struggles to hitting third, though, noting he has been playing through nagging injuries.
"I don't think it's that spot," Roenicke said. "Since he hurt his thumb, I don't think he's swung the bat as well. And that's been quite a while now. Early on, we saw him just hit what seemed like line drives all over the field, and I'm not really seeing that too much anymore. He'll still hit some hard balls, but I think that has to do with being banged up."
Filling out the lineup every day has been a challenge for Roenicke, as he is missing his Nos. 3-5 hitters with the absence of Braun to suspension and Aramis Ramirez and Corey Hart to injuries.
He said giving his top five hitters -- Rickie Weeks, Norichika Aoki, Segura, Jonathan Lucroy and Carlos Gomez -- any off-days is difficult, given Milwaukee's current lack of star power.
"I would certainly like to play them most days," Roenicke said. "I guess where it comes in is when production goes down and I feel like they have a day off, if the production has a chance to go up, then I'll give them a day off."
He added: "And I know some of the production has come down already. Some of it we're talking about has to do with some guys with some injuries. I think Gomez, I really believe that part of that, whatever it was -- two weeks -- where he didn't swing the bat well was because of some injuries. And I think Segura, the reason he's not swinging the bat better is because he's banged up some. So if I thought one day would help them to recover and be better, once in a while I'll give Nori [Aoki] a day off, and it helps him, then I'll do that."
Is that harder to do now without Braun and Ramirez in the lineup?
"Yes, it is harder," Roenicke said. "No question."
Adam McCalvy is a reporter for MLB.com. Read his blog, Brew Beat, and follow him on Twitter at @AdamMcCalvy. Kevin Massoth is an associate reporter for MLB.com. This story was not subject to the approval of Major League Baseball or its clubs.