Turner slots into Mets' starting lineup in finale
Turner slots into Mets' starting lineup in finale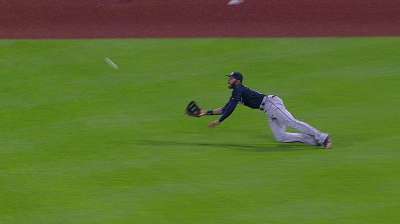 NEW YORK -- Justin Turner's first at-bat since his return from the disabled list resulted in one of the highlight plays of the young second half. A diving grab by Jason Heyward ended Monday's loss to the Braves.
On Thursday, Turner got a chance in the starting lineup.
The infielder started at shortstop and batted sixth against the Braves on Thursday, making his first start since June 15. With a 12:10 p.m. start following Wednesday's night game, Terry Collins said the reason for getting Turner into the lineup was "two-fold."
"It's good to get Justin in there, get him some at-bats, get him some playing time," the Mets manager said, "but it's also good to give [Omar Quintanilla] a blow. He's played every inning but one since he's been here, and I think he could certainly use a rest."
Turner, a career .255 hitter, is batting .263 this season with six doubles in 103 at-bats. Quintanilla is batting just .225 since joining the Major League roster on May 30.
"It's good to get Justin back," Collins said. "We all know this guy's a good baseball player and he's a good offensive player, so I thought today would be a good day to get him in there."
Chris Iseman is an associate reporter for MLB.com. David Wilson is an associate reporter for MLB.com. This story was not subject to the approval of Major League Baseball or its clubs.